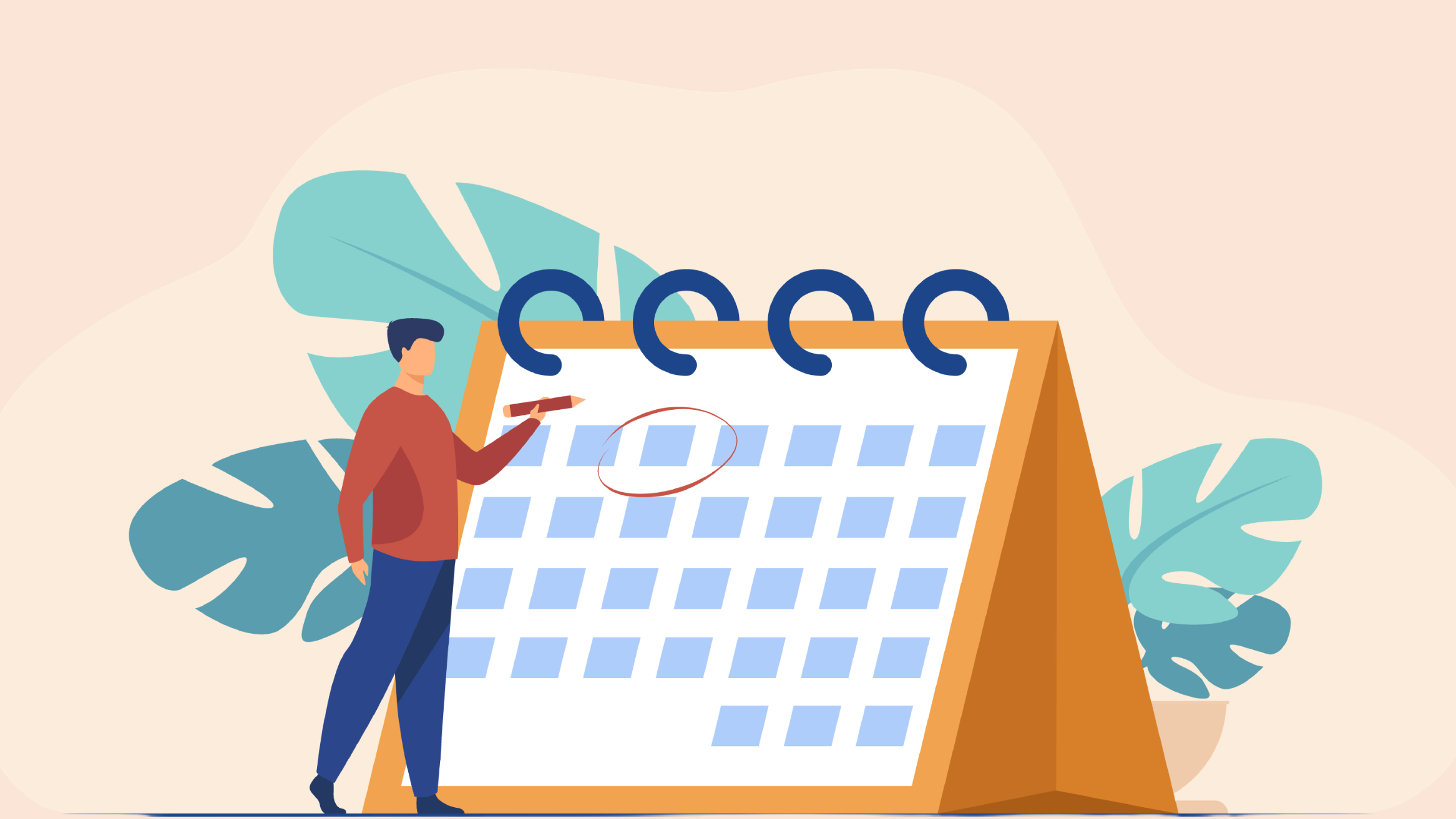 How to Create Personalized Calendar for this New Year

Jan 8, 2021
Can you make a personalized calendar?
With DocHipo, ever-ready to be with you through all your creative endeavors, You can make a personalized calendar.
With 2021 already making its way into the establishment of a new era, you need a calendar that can resonate with you. After all, the purpose of having a calendar goes far beyond the need to keep pace with the month, day, and date.
Now we always look for calendars that can have a pretty image on them. This is because beautiful visuals always make us feel good. Whether it is destination pictures or pictures of our loved ones, we love seeing them and being happy.
Also, we want our space to feel brightened and positive by the presence of vibrant pictures. Hence whether we hang the calendar against the wall or keep it on the desk, pictures enhance the beauty of that space.
This quality of calendars possessing beautiful visuals makes them an ideal New Year's gift.
Even as a business, it is a wonderful gesture to send personalized calendars to your clients. This will keep on boosting your branding efforts and strengthen your relationship with your customers.
This article will tell you how to create a personalized calendar for 2021 in DocHipo that you can flaunt and gift to your special ones. But before that, let us go through the different categories of Calendar templates that you can use for different purposes.
Fashion
Fashion has an industry market value of 406 billion dollars. This means your industry is booming with profits. Also, we can never forget that you are out there making the world glamorous.
Fashion industries are all about style, beauty, trends, and change. If your business is related to fashion, you need to make sure everything pulsates with that poshness, including your calendar.
Not just that, you can also give out personalized calendars based on fashion to your clients and your team.
So get more pumped up with 2021 personalized calendar templates that you can get in DocHipo. You can hang them against your office walls or put them on the desk (even make a planner out of it).
The options are many and the choice is yours.
If you intend to make the calendars more personalized for branding purposes, then you can simply add your logo to the DocHipo editor itself and use it.
Let me show you my most favorite personalized calendar template related to fashion: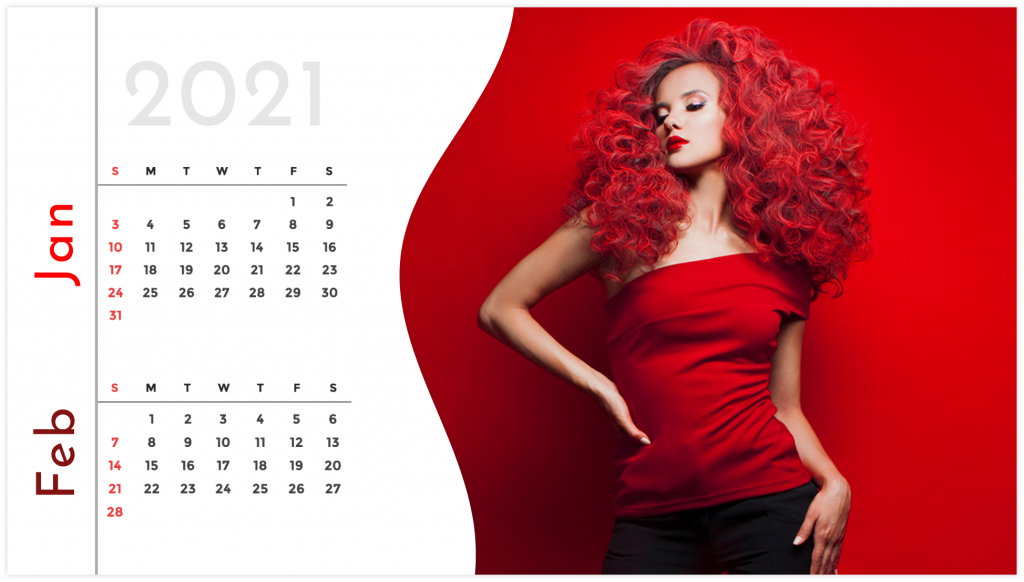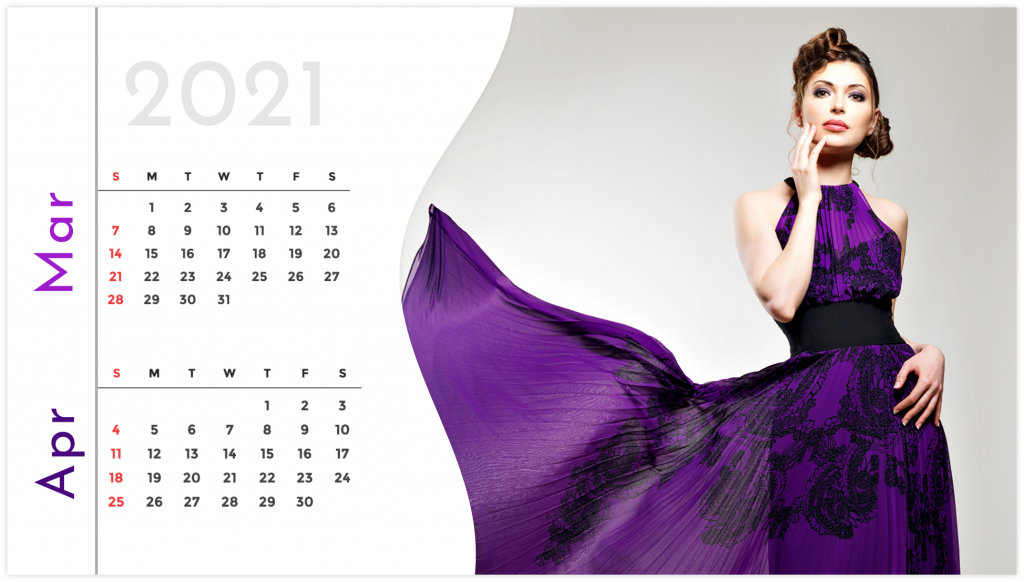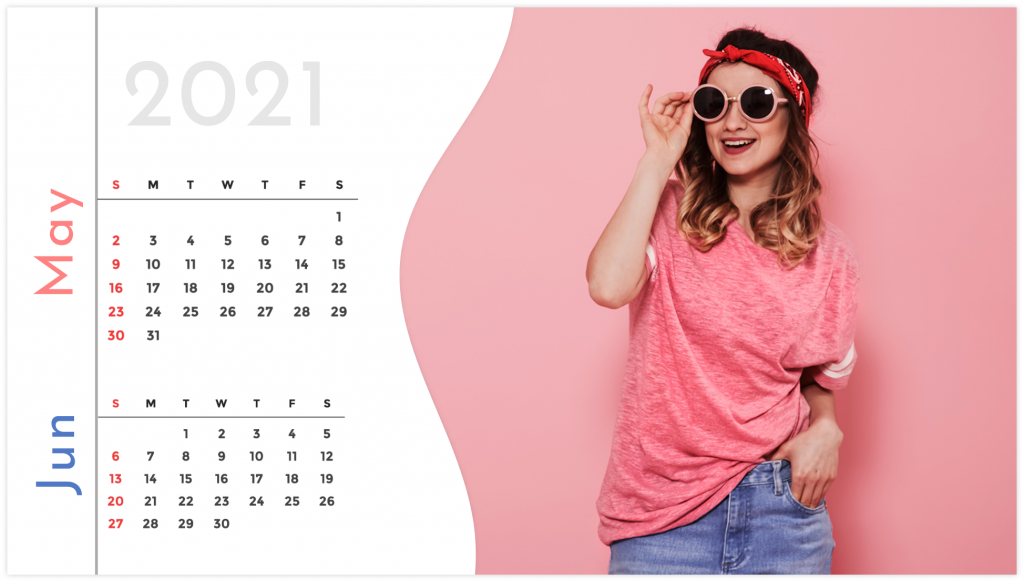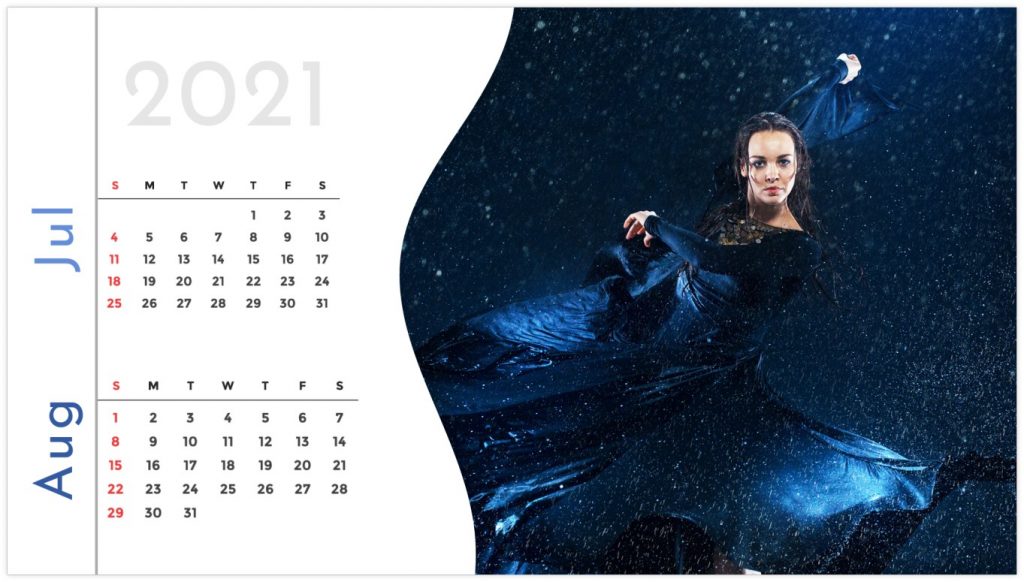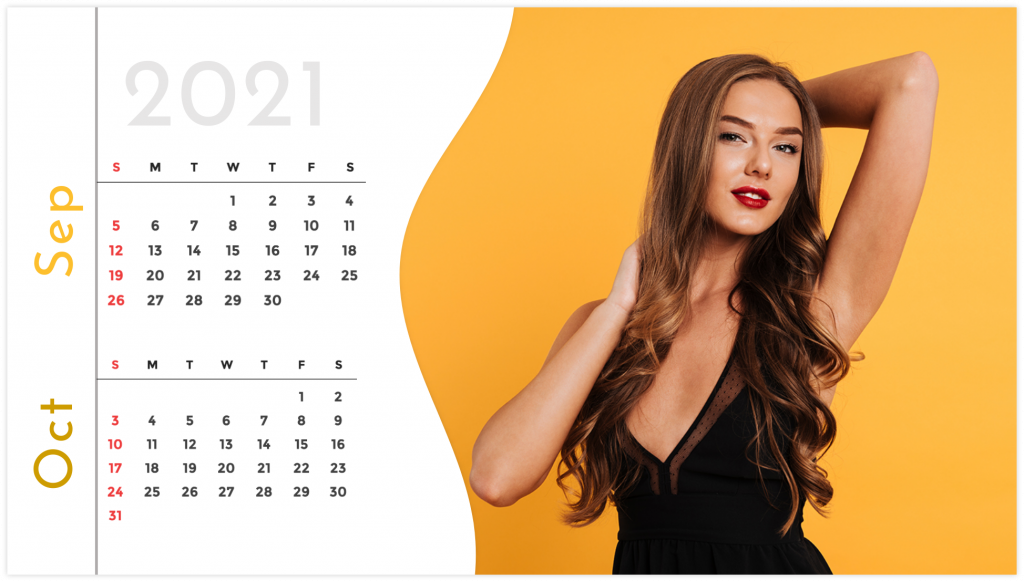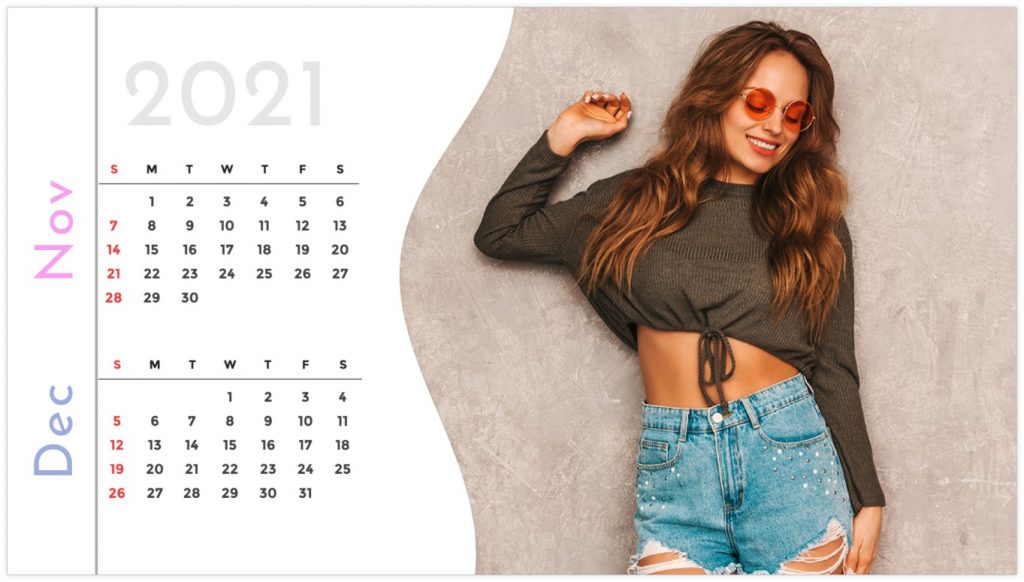 Food
Food is everything!
For some, it is a necessity, for some, it is a luxury, and for many, it is the source of income. This is the reason why the revenue in the food market for 2021 is predicted to reach 8,222,213 million dollars.
I would say that's a wow amount for anyone who belongs to this industry. So if you own a restaurant or any food joint then you must have a steady source of income with amazing profits.
Hence, you need a personalized calendar that can arouse all the gastronomes out there.
Also, sending out a personalized calendar that has visuals of all the mouth-watering dishes can be a pleasant treat to the eye, flooding our imagination with tempting dreams of pleasure.
This is a great way to create associations within the minds of the customer, as they will start connecting the feeling of "Yummy" -ness with your restaurant.
So, in DocHipo you will get amazing personalized calendar templates that perfectly match your strategy.
Also, if you are a food lover yourself then you can use it in your space and start the day scrumptiously.
Like check this one out: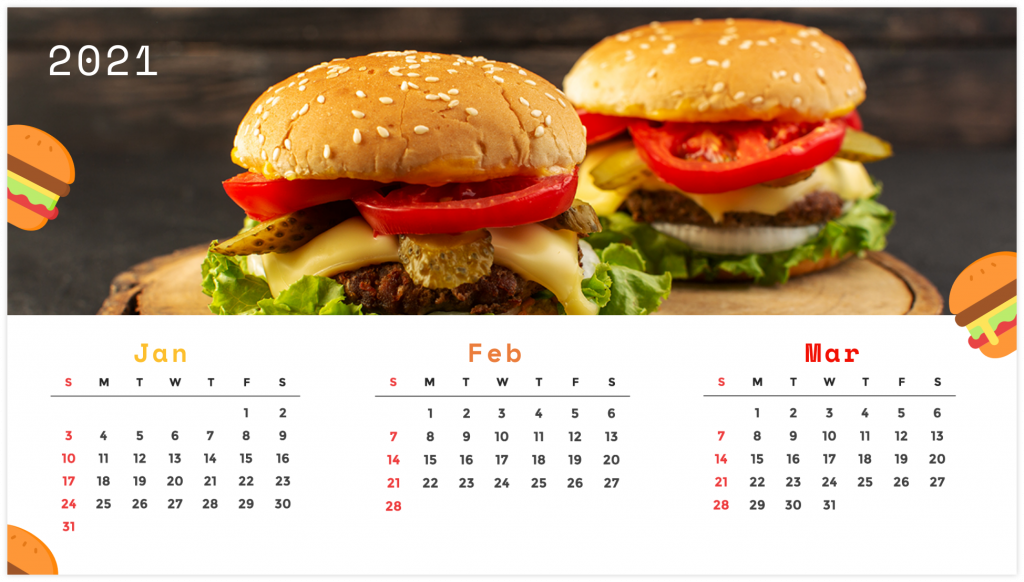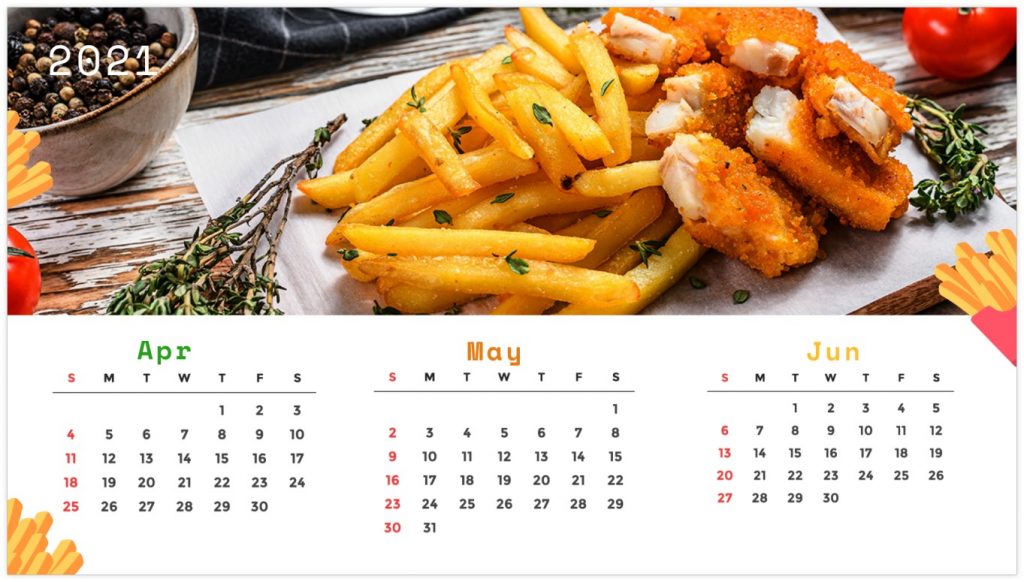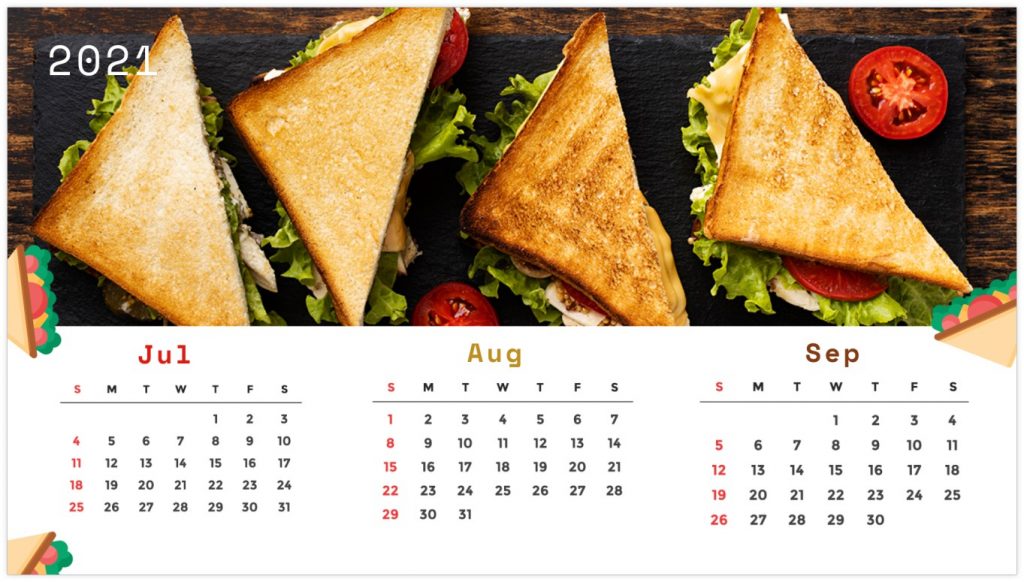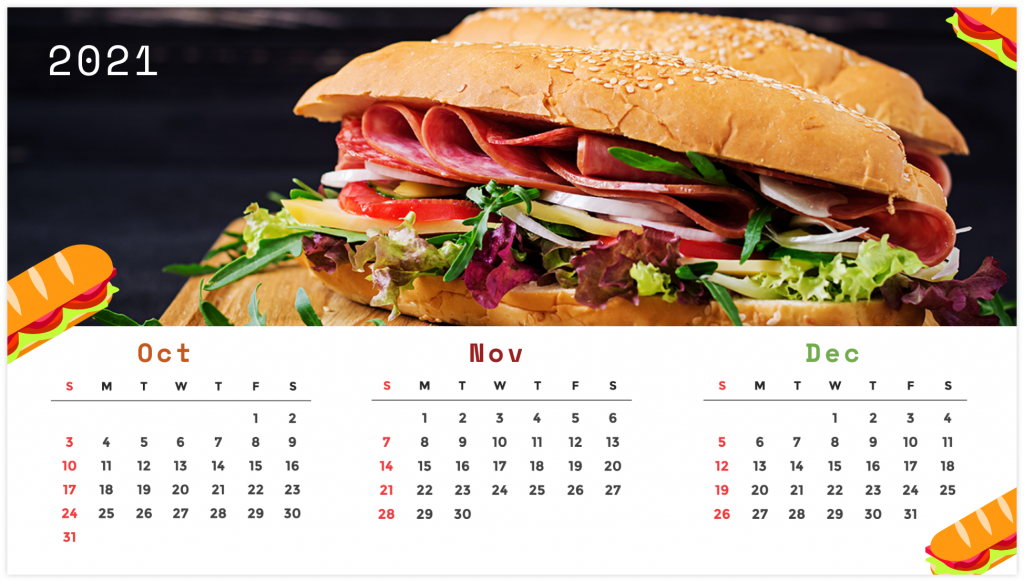 Kids
Doesn't your heart get all mushy when you see a tiny munchkin toddling its way into a toy store? Or how about the squeaky crackling cry of a small person rising out into the world for the first time?
These lifetime experiences are extremely special for people who cherish every moment of parenthood.
If you are a pediatrician or an owner of a toy store, you are also a part of this joy. Your all attempts are always directed towards how you can make moments memorable.
For a pediatrician, a child's health is really vital. Again, If your business is all about toys and baby products, then you are always trying your best to help the new parents to take care of their children.
So, whether you own a pediatric clinic or a toy store, it is always great to give a personalized calendar to all your customers. It will give them the feeling that you care for them and their family. Especially if you give them a personalized calendar, which depicts pictures of little babies that can totally melt their hearts.
Take a look at one of my favorite personalized calendar: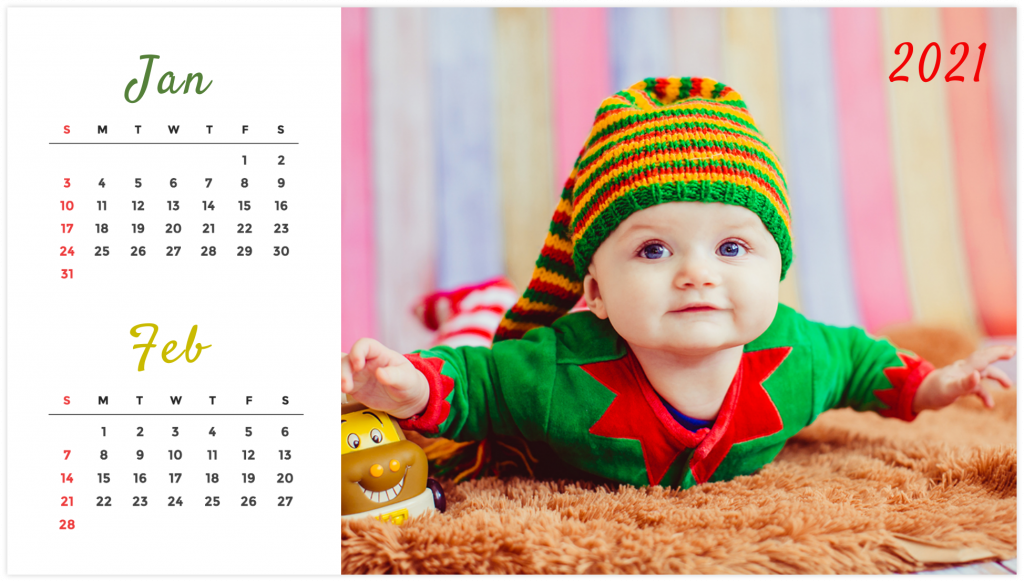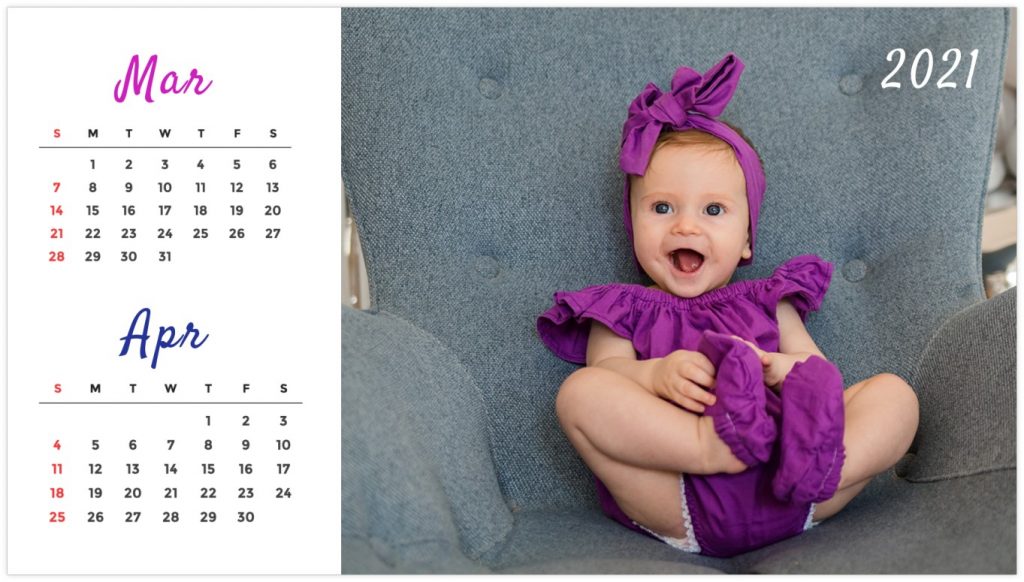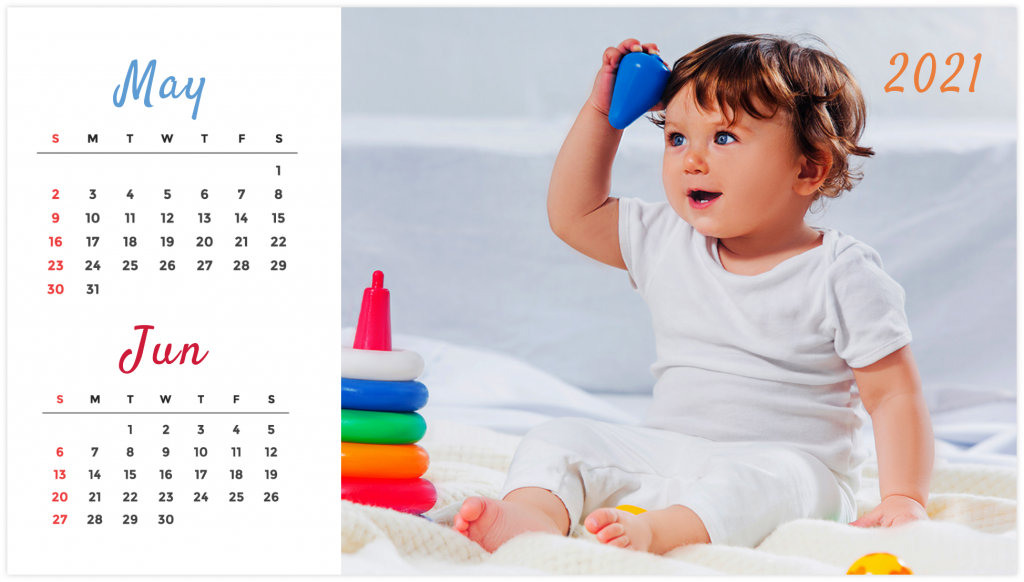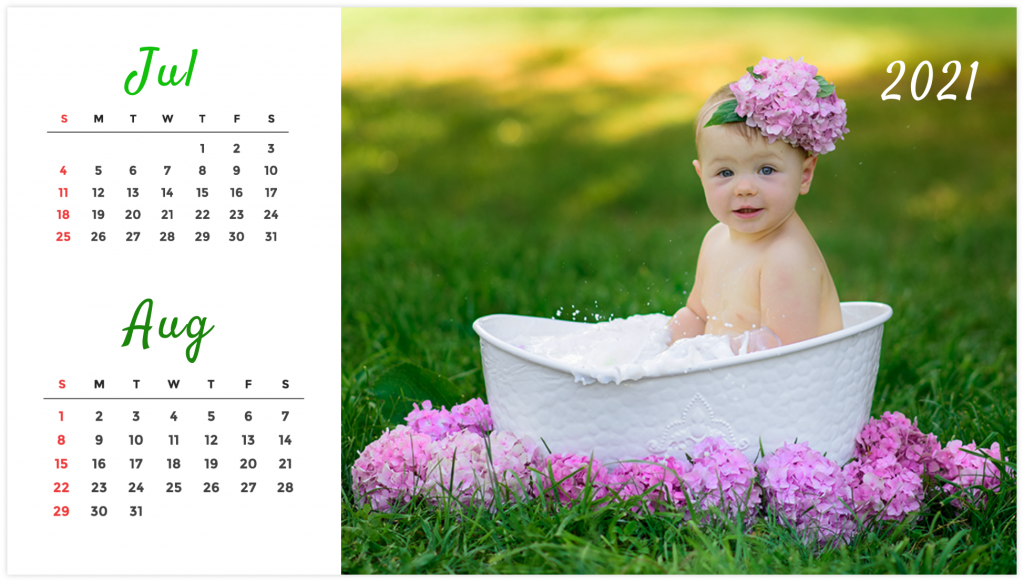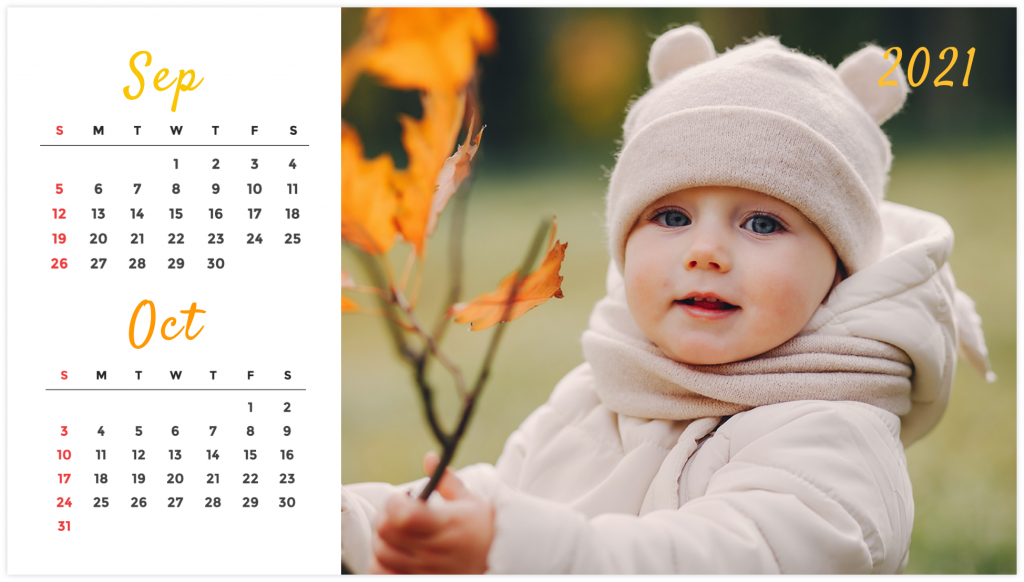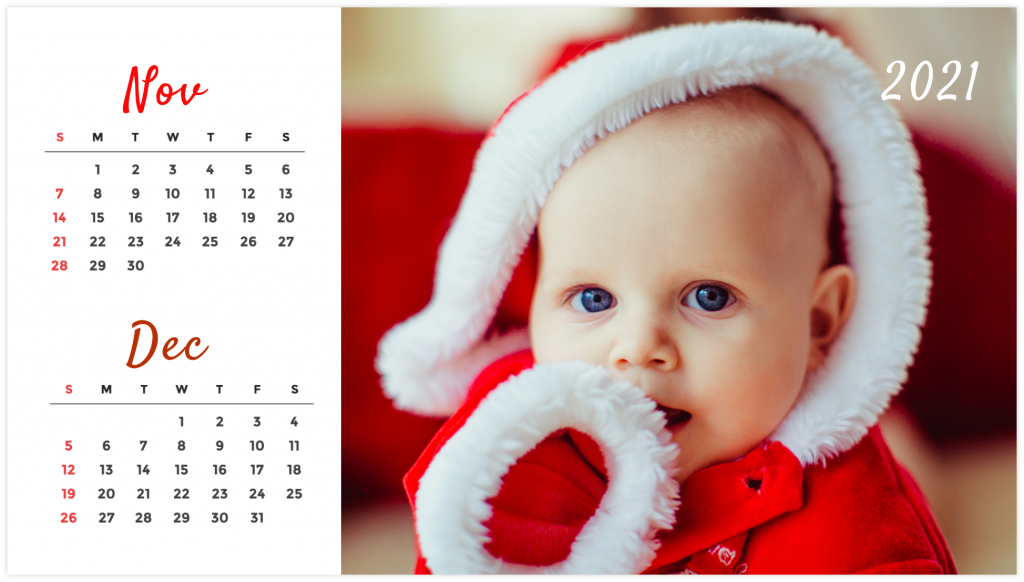 Nature
Do you love to explore places filled with the beauty of blue skies, green landscapes, a sea, or a sloping snow-clad mountain? How about venturing into exotic places that are less roamed around?
We all love adventures!
Because an adventure allows us to challenge ourselves to step into the unknown.
So, it is always exciting to see visuals hung on your wall that can visualize your desire to journey around interesting places, racing up your adrenaline.
Hence, personalized calendars with beautiful sceneries can be a great gift to give to anyone who loves nature.
If you own a travel agency, then gifting out a personalized calendar that has beautiful images of nature can be the best thing you can do!
Let me show you my most favorite one from DocHipo: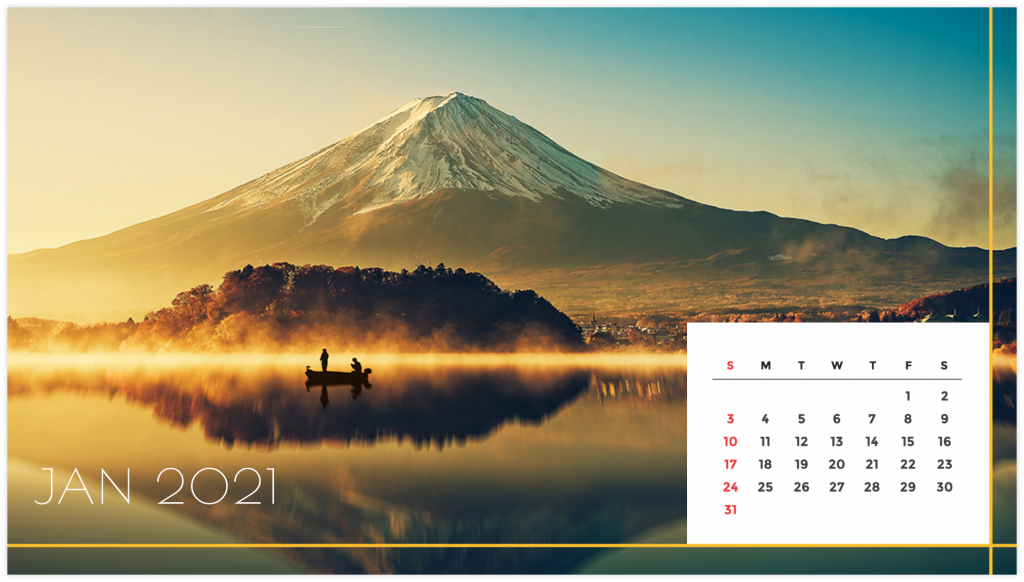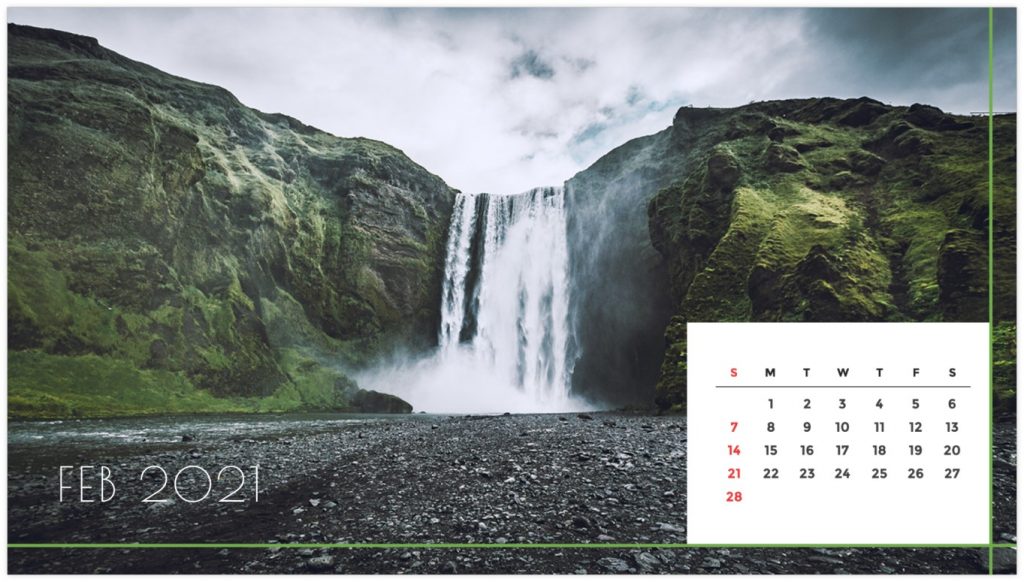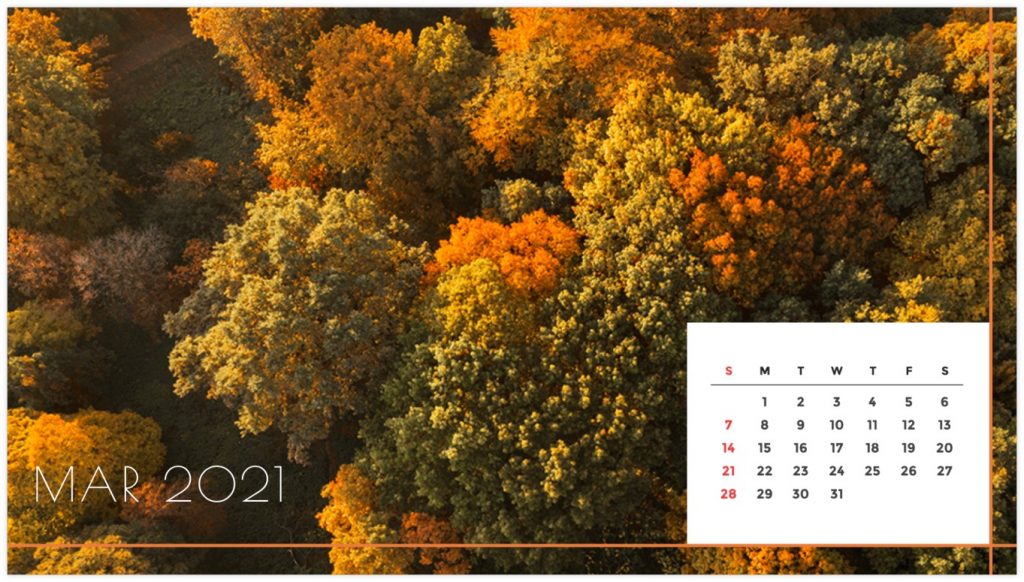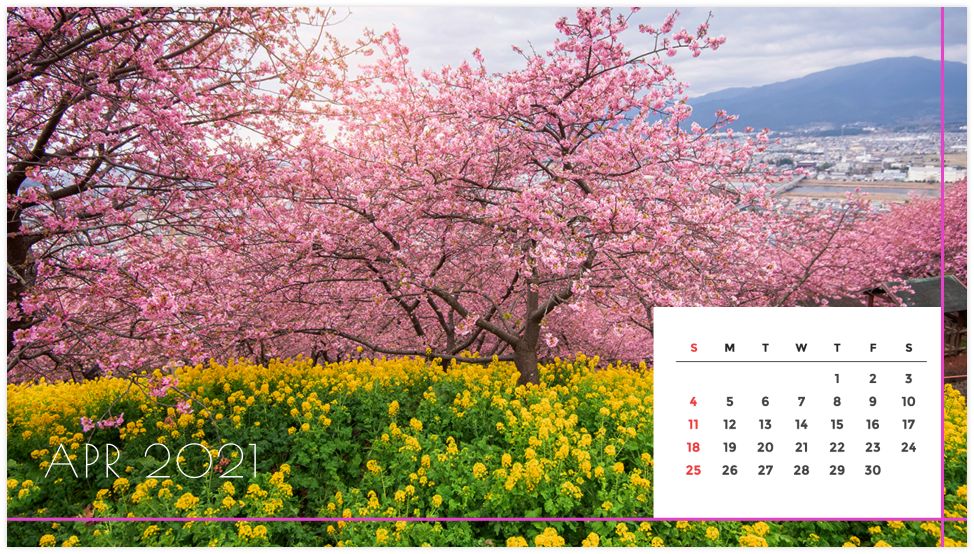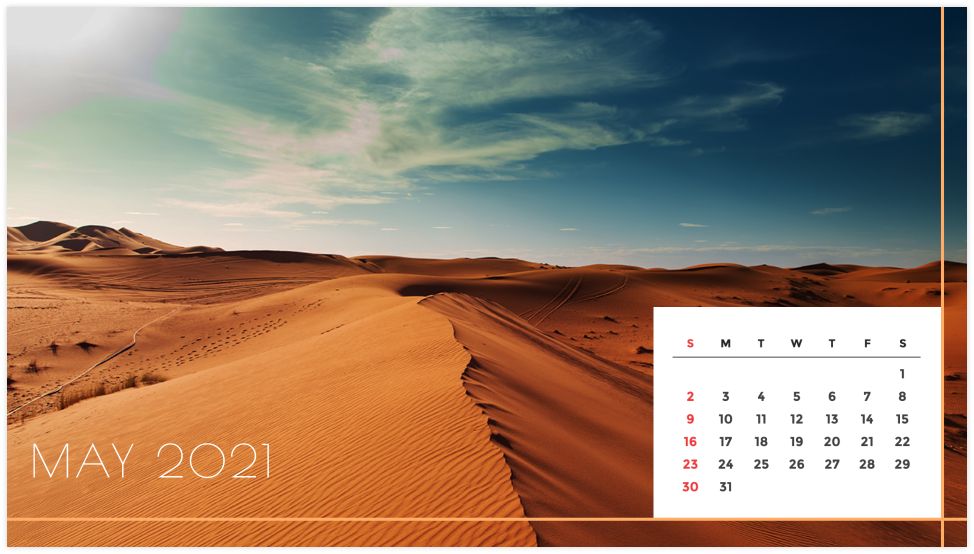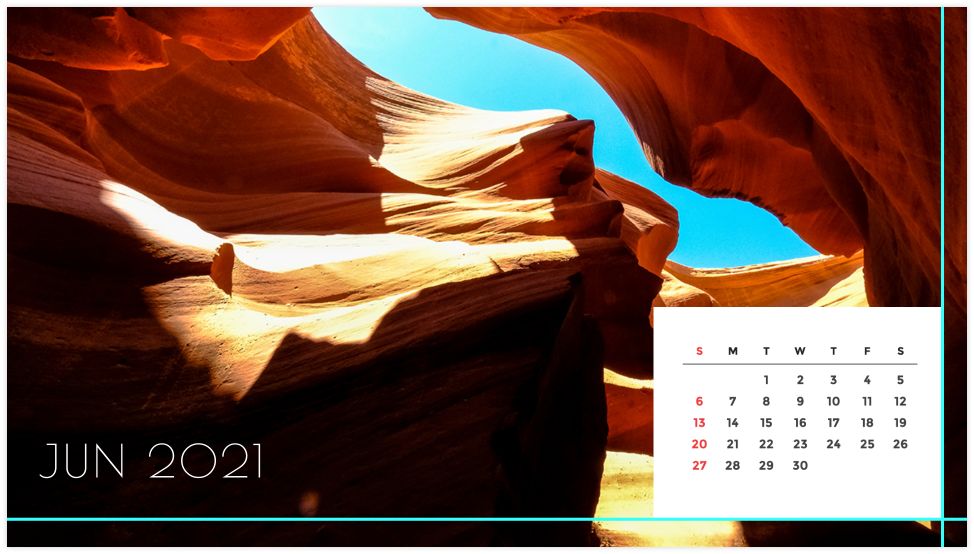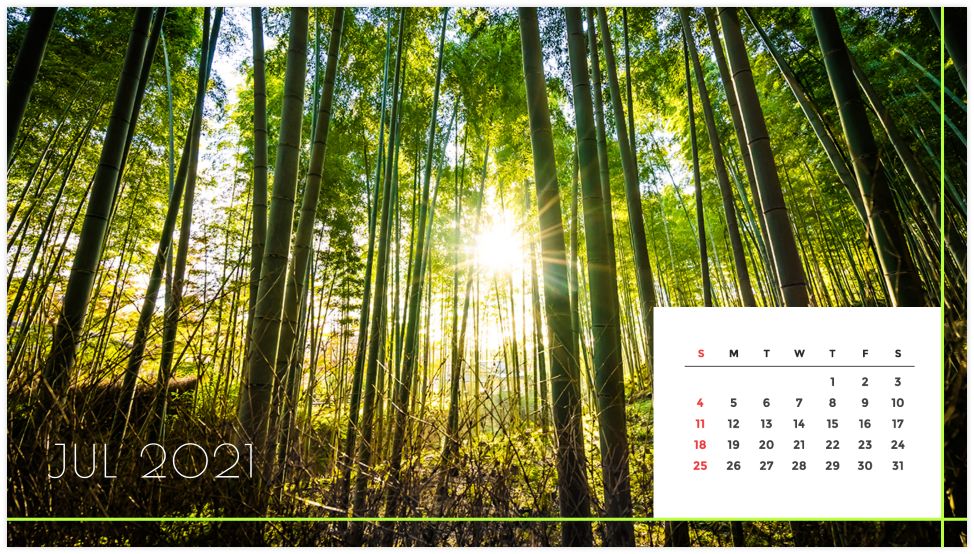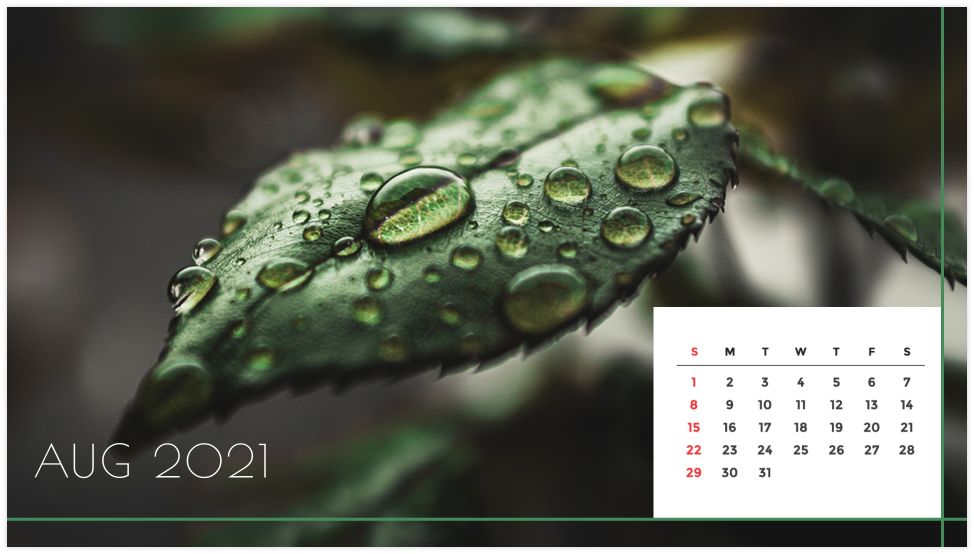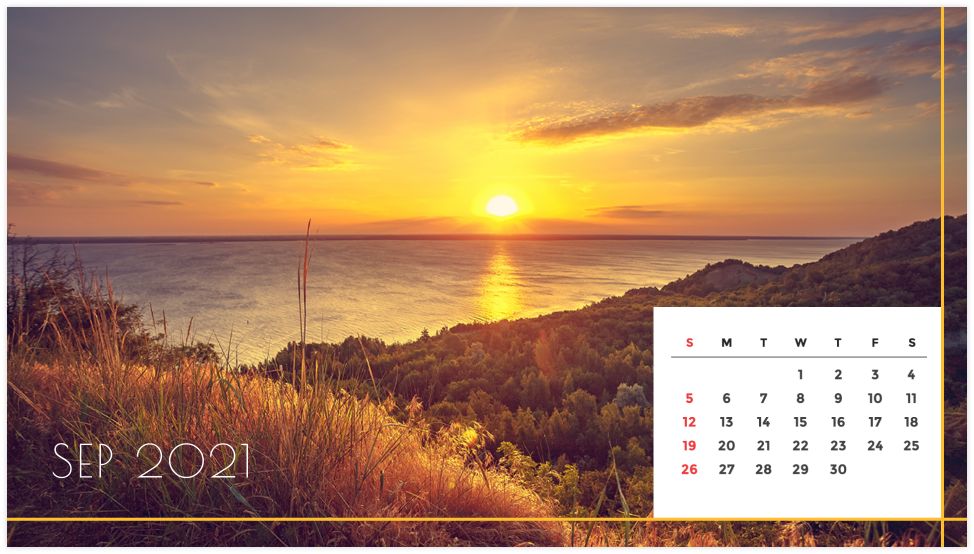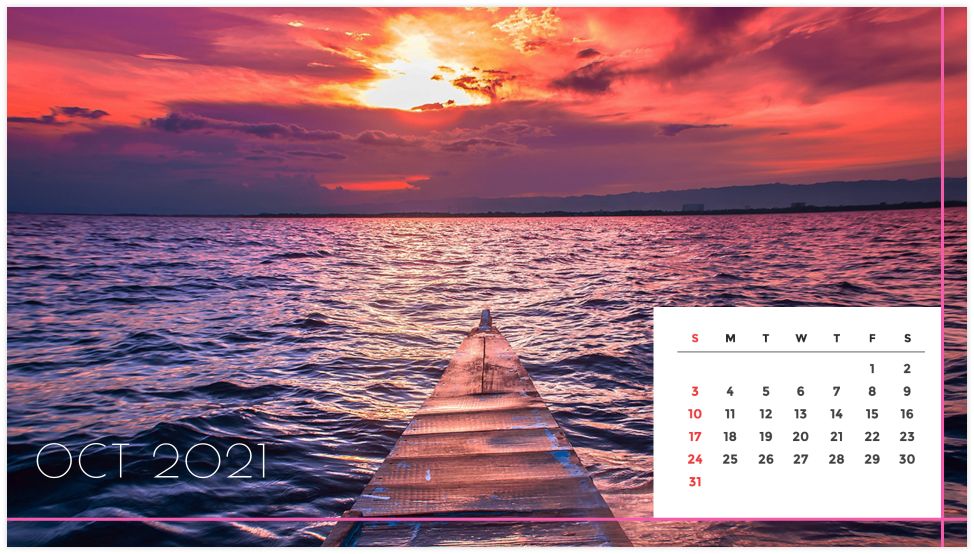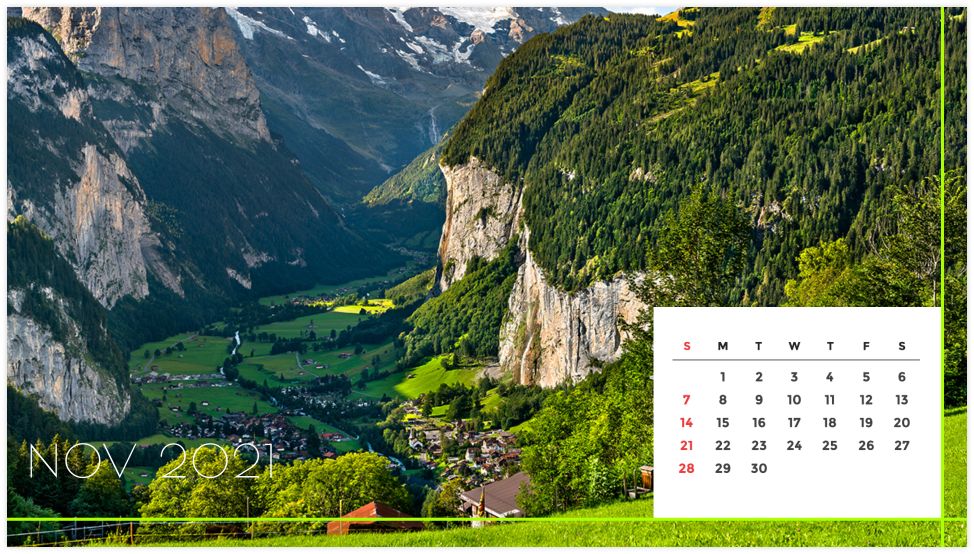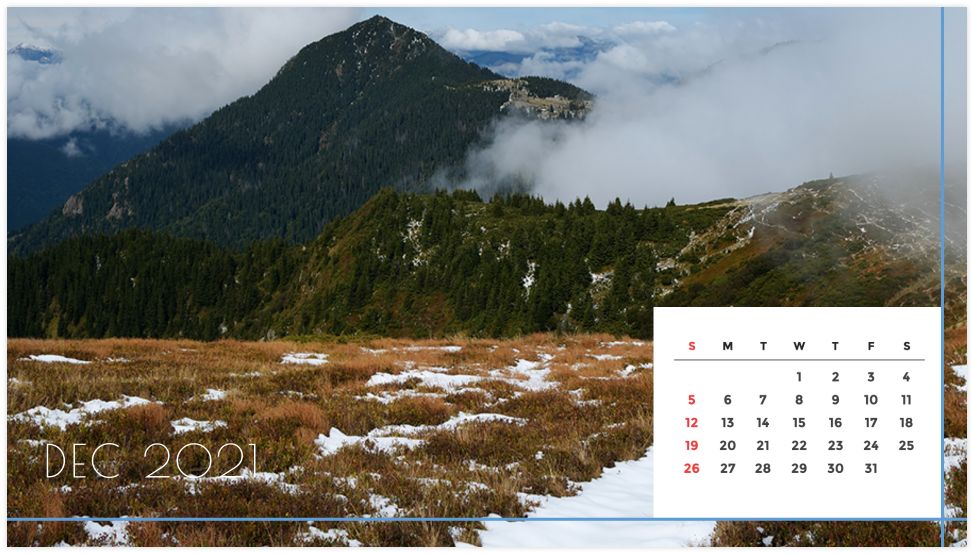 Wildlife
Do you love animals?
Well then this calendar is a must!
These fluffy creatures will turn any mundane day happy.
Talk about the marvelous arrayed variety of birds, or the majestic lion ready to rule the forest, you need all of these to make your calendar look really gorgeous.
Like check this out: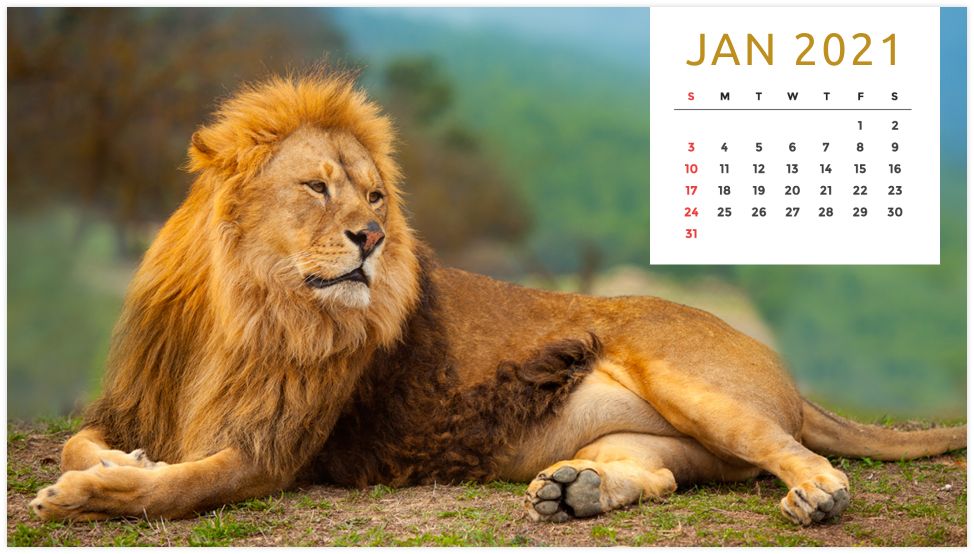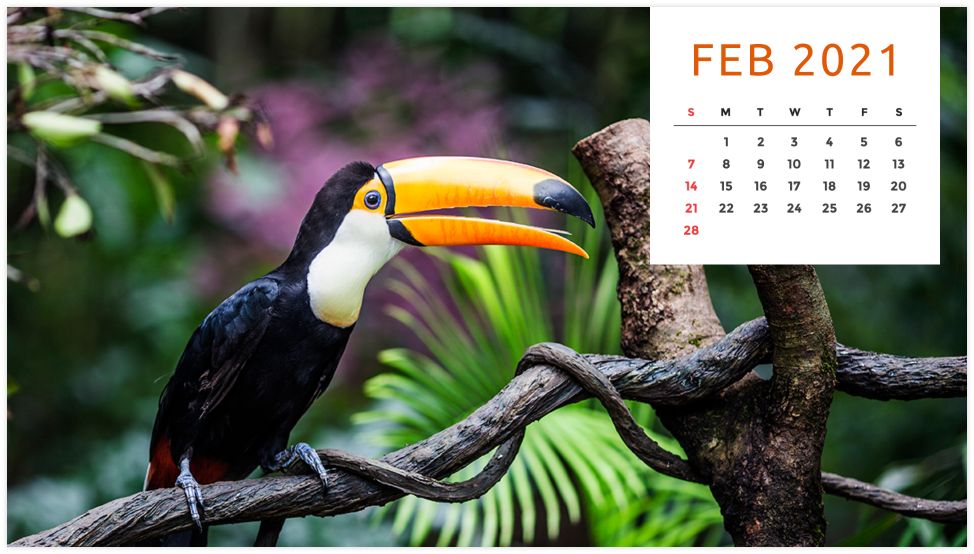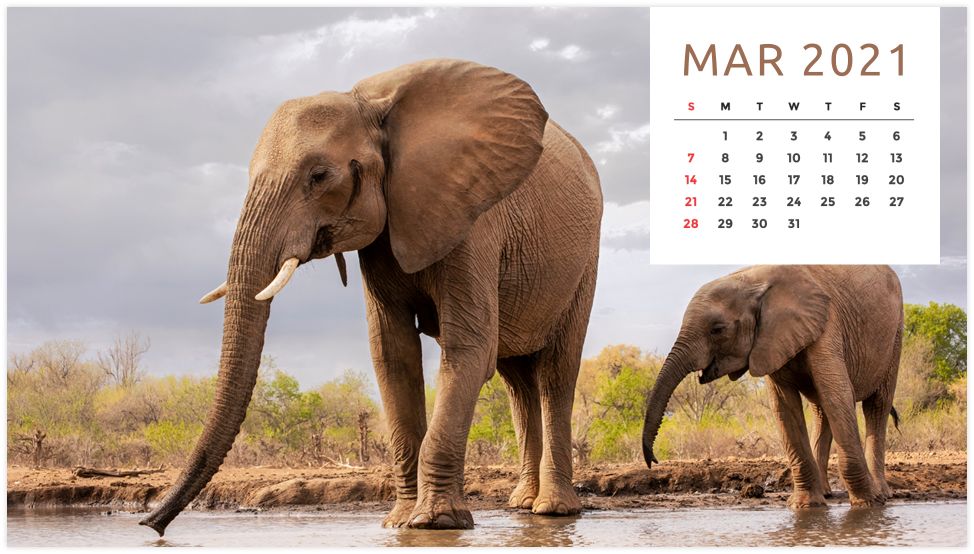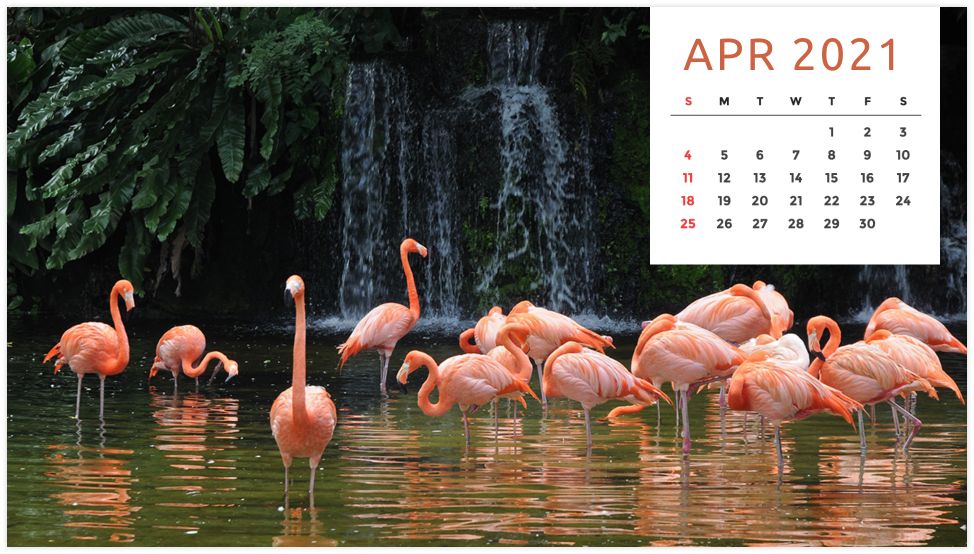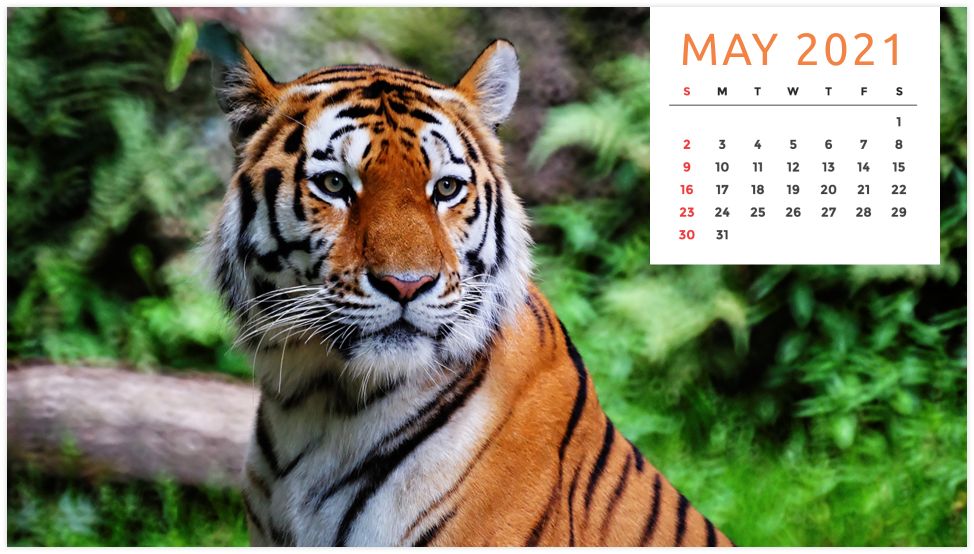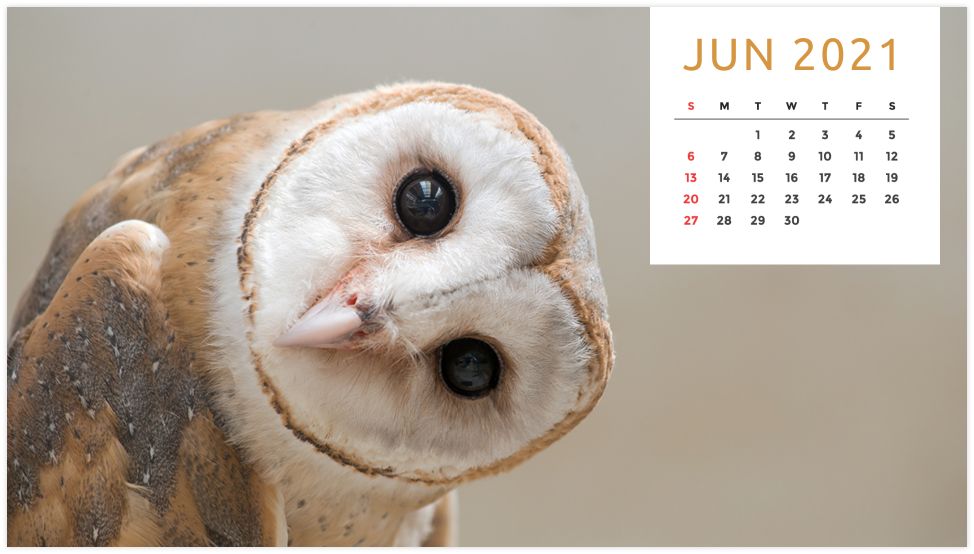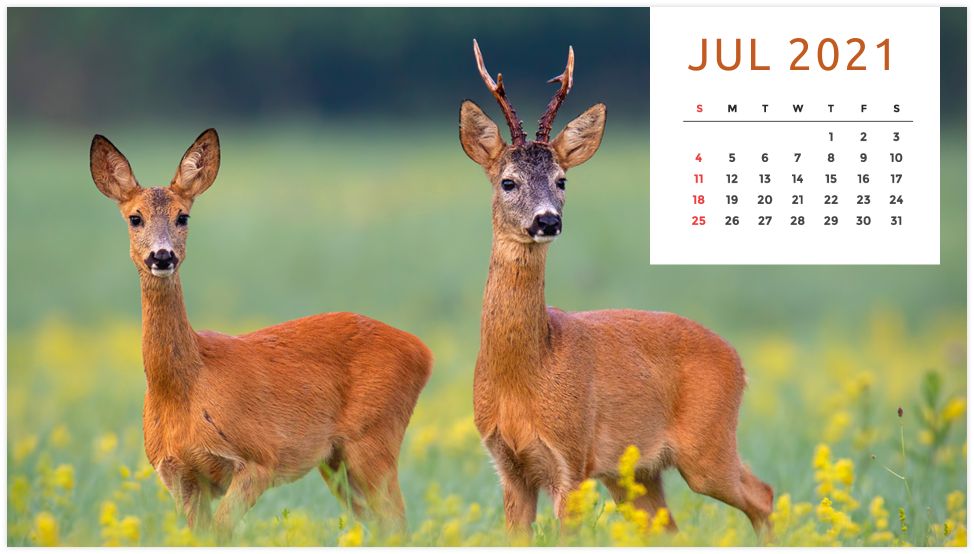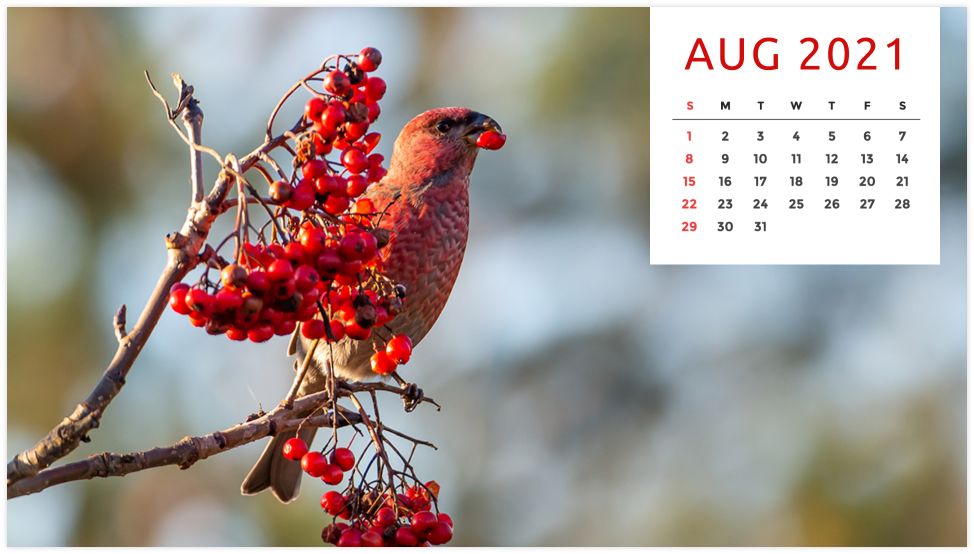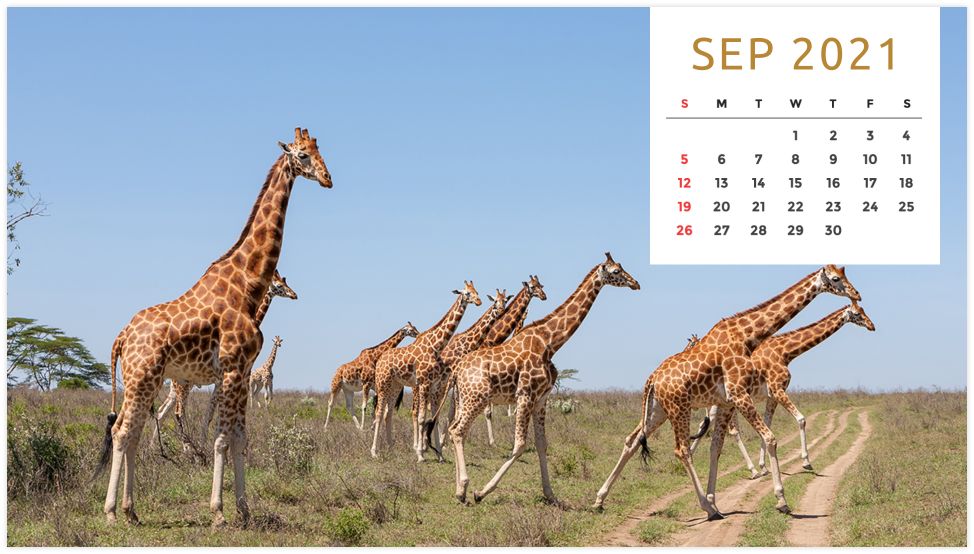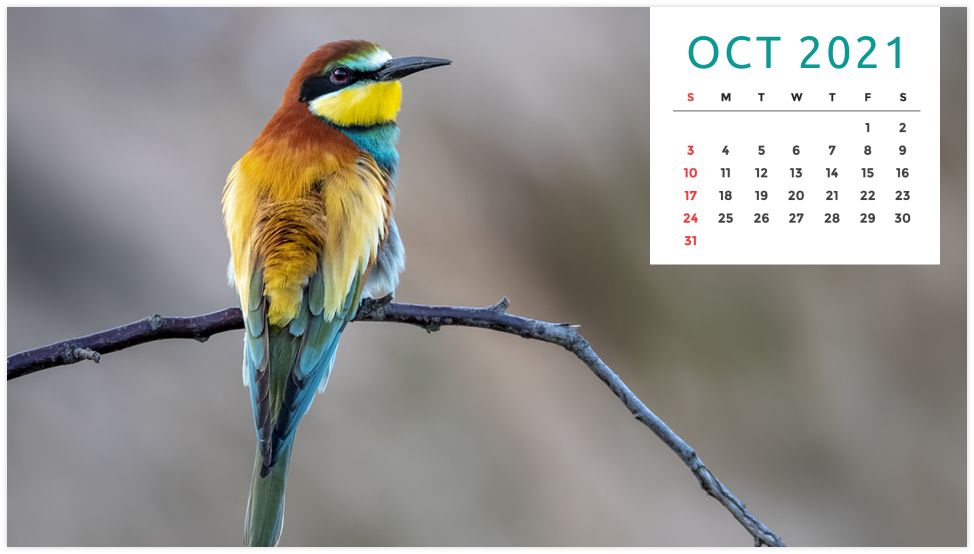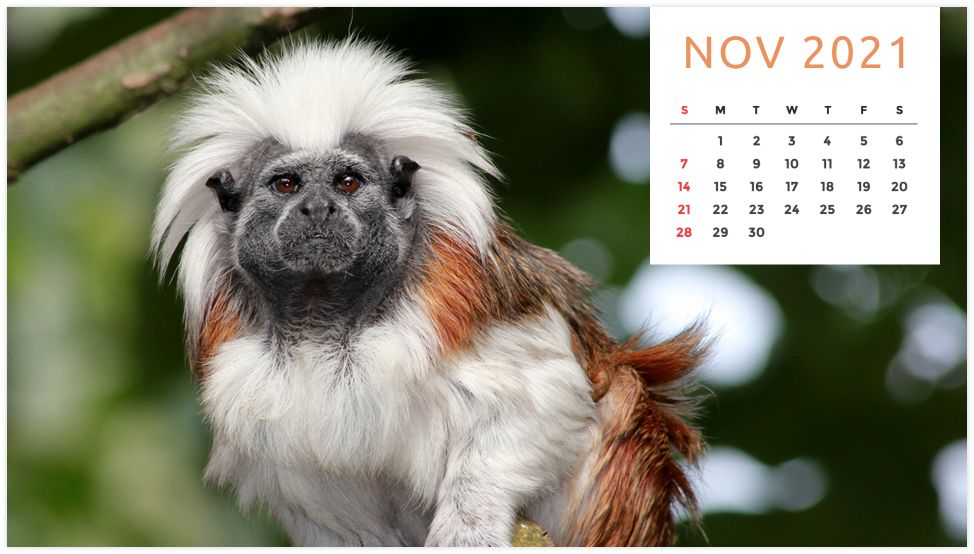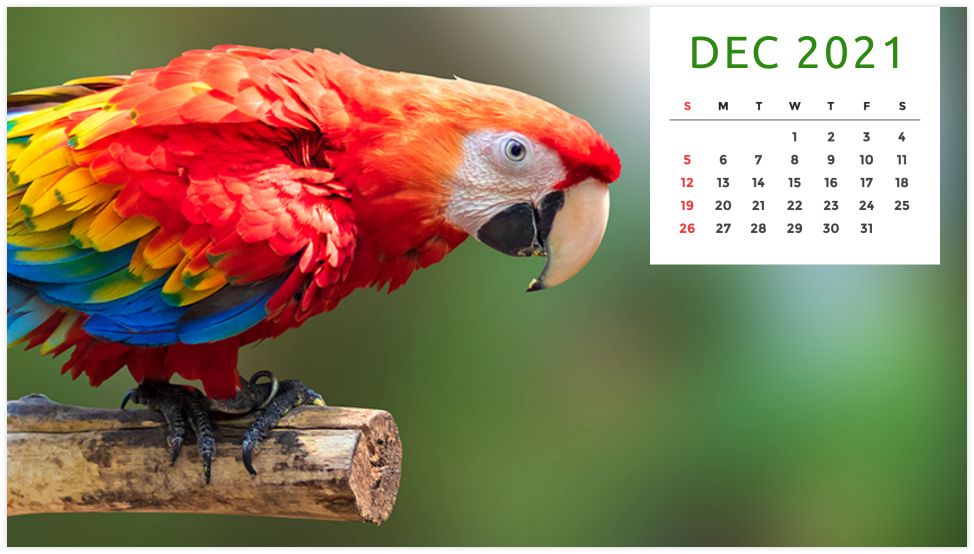 How to Make Personalized Calendar in DocHipo
I am pretty sure you will just love the latest collections of all our personalized calendar templates. You can belong to any industry and use any of these templates to share the joy of this new year and all the happy moments which are waiting for you and them.
But if you do want to personalize the calendar a bit more by putting images that reflect your special moments then hear me out.
Before that, if you still didn't sign up, then do it now!
Step 1
You have two options on the landing page.
You can either type "Calendar" on the search bar or click the "Calendar" option in the left-side panel under the "General Purpose" widget.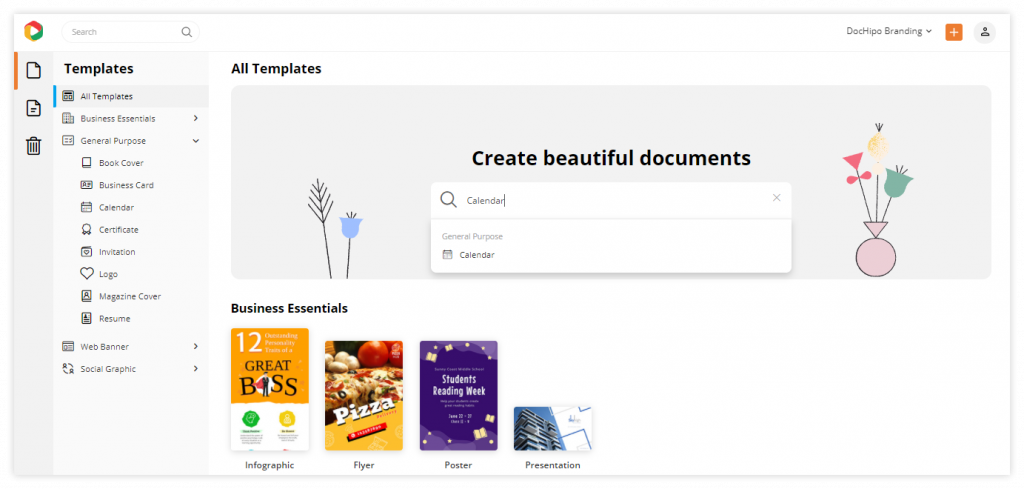 When you click the option you will be redirected to the document template page, where you can select any template that matches your vision.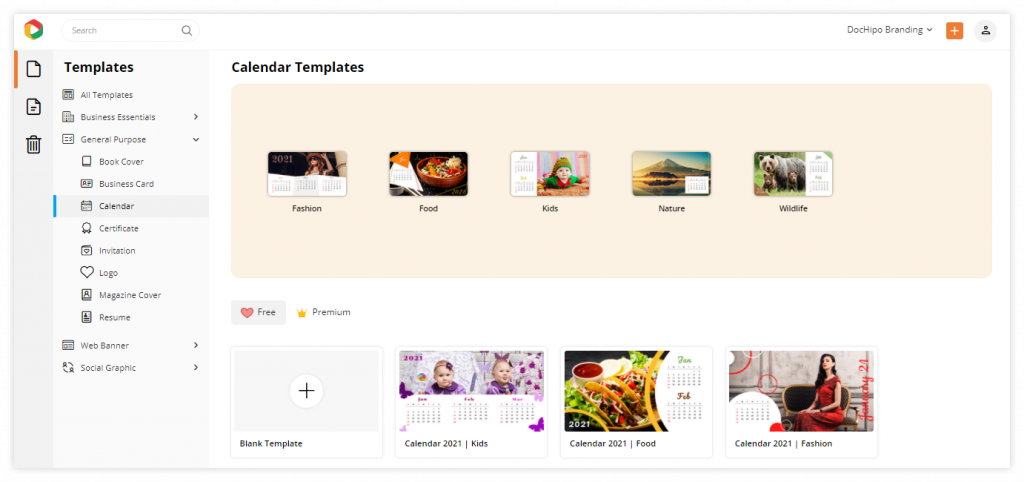 Step 2
When clicking a template you will be navigated again to the Document Information page.
There your Name and Document name will be auto-populated (which you can change). Then you have to fill in the Description that makes things easy for you.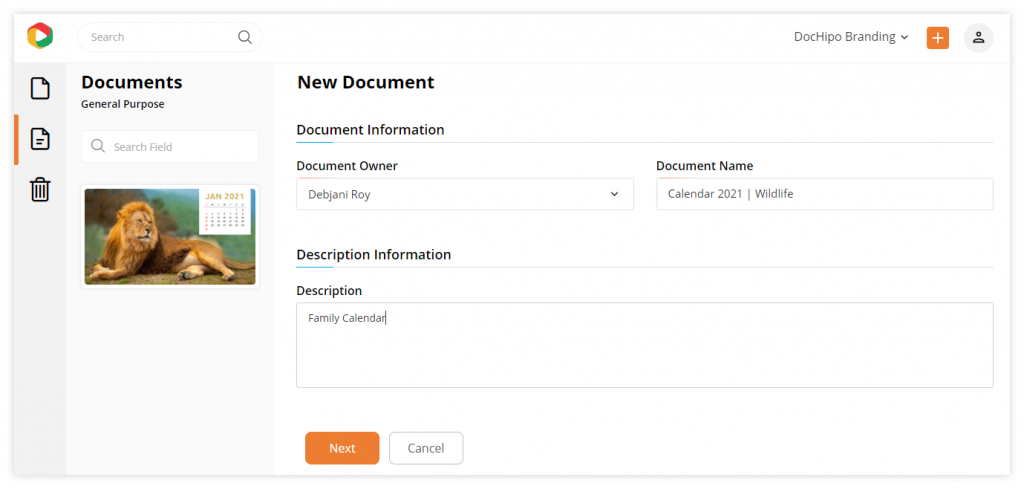 After you click "Next", you will be re-navigated to DocHipo's editor. This editor has all the tools that you need to create an astounding design.
For customizing a calendar template with your chosen picture, the process is super-easy.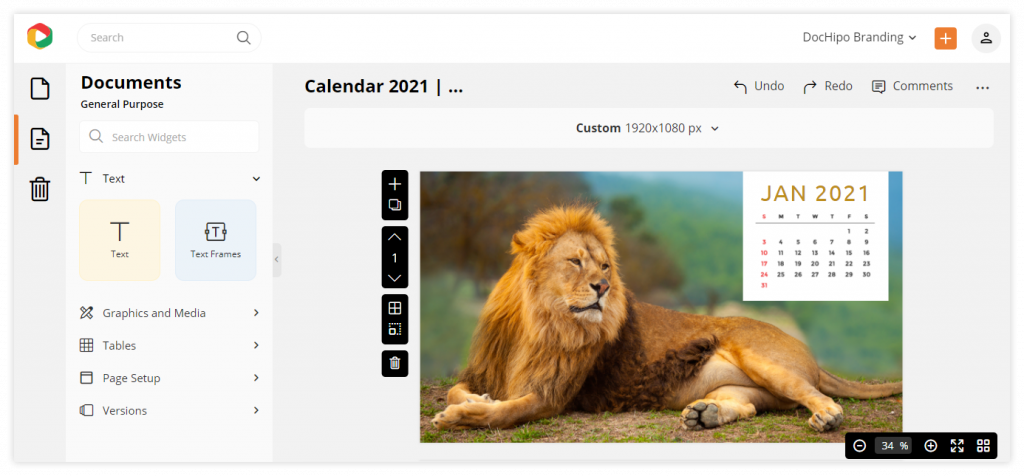 Step 3
Now I will upload this picture in the editor so that we can use it on the template: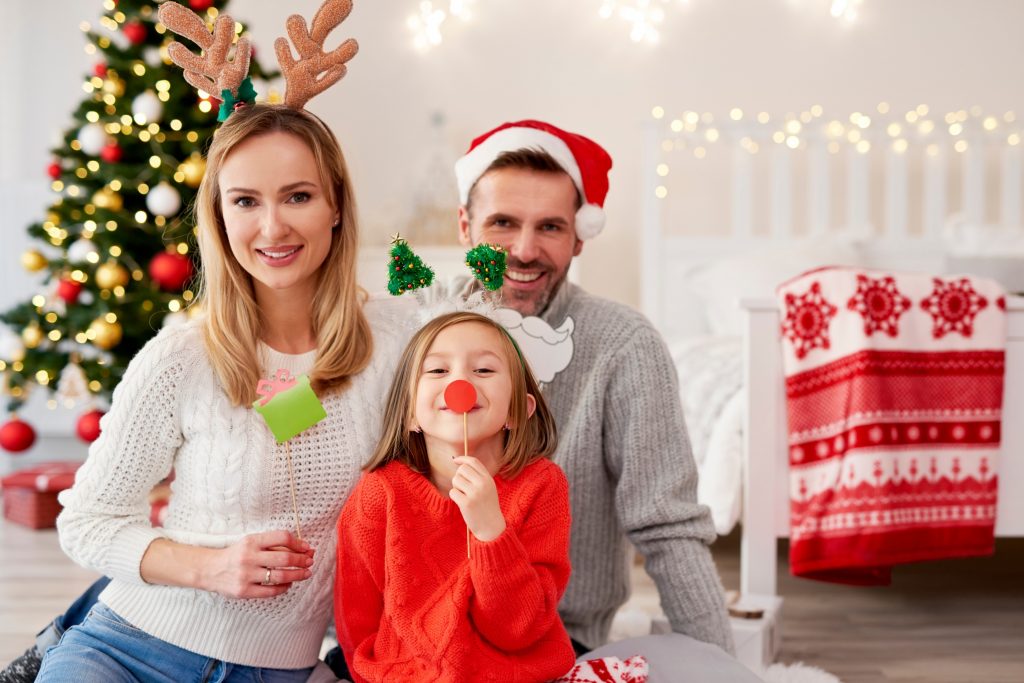 To upload this picture, you have to click the "Upload" widget under "Graphics and Media".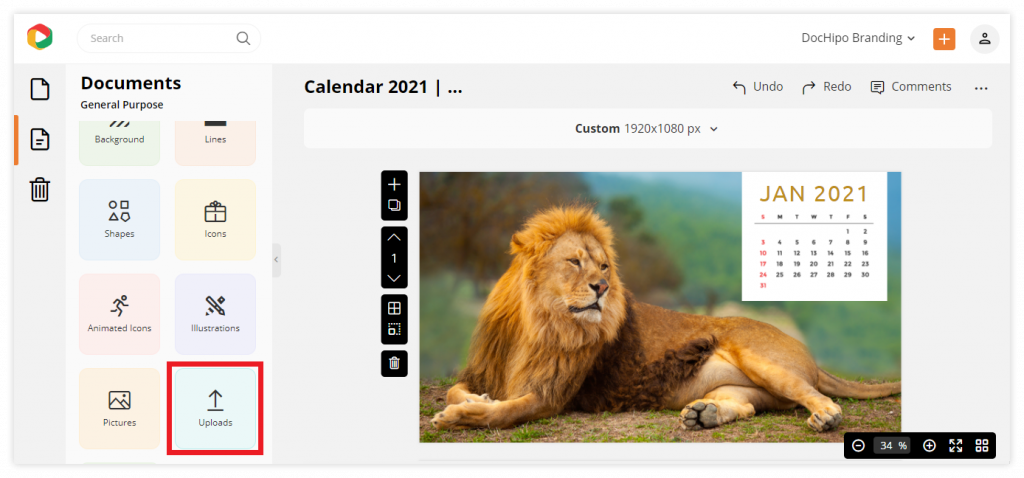 Then you have to click the button, "Upload Images", and choose the image that you want to upload.
Once you have uploaded the image you can click on the image and drag it on the template. The template will automatically take-in the chosen image, making the calendar really special for you.
With this editor you can do anything…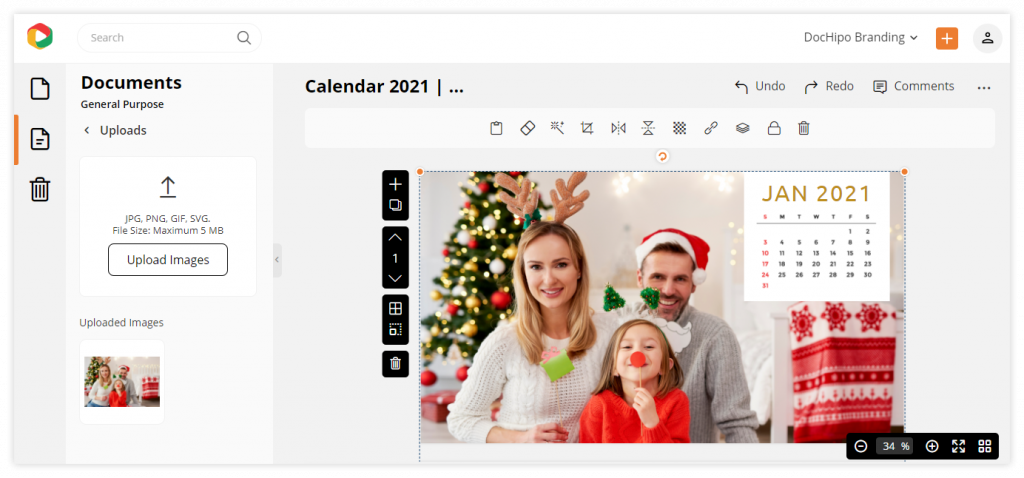 Step 4
Whenever you are ready with the design, you can then download it.
For that, you have to click the three-dotted button on the top-right corner. A list of options will flash-down from where you have to select "Download".
A box will appear where you can select your idea file-type (PNG or PDF) and then choose the image Quality (Normal/Medium/High). It is recommended that you use a high-quality image if you are going to print your personalized calendar.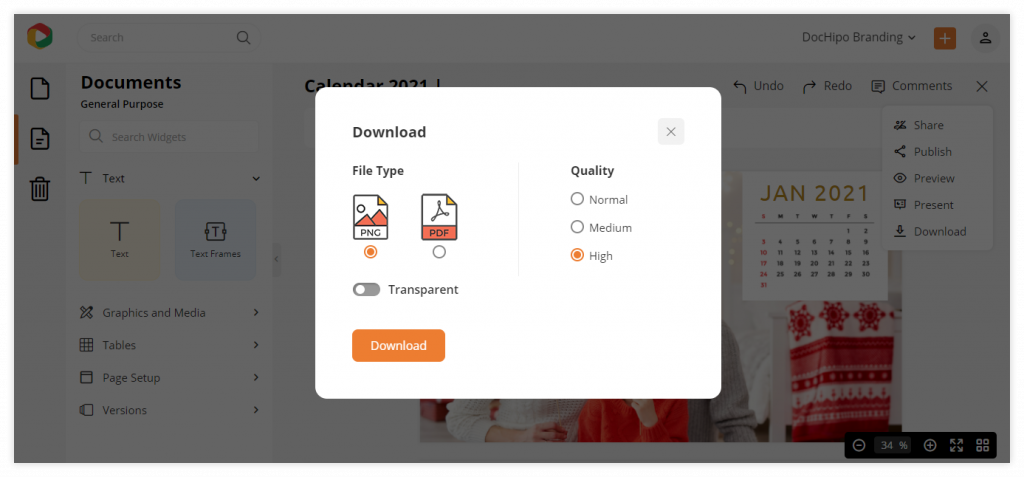 If you want to know more about how you can create your personalized calendar then check this video out:
Conclusion
Calendars are an excellent way to make your space look lively and bright. Above all, calendars can serve to be amazing gifts, because they are harbingers of great hopes and upcoming aspirations.
As we look forward to having a wonderful 2021, calendars will always remind us of all the wonderful ambitions and goals that we are still yet to fulfill.
So, whether you love fashion, food, babies, or animals, nature, and wildlife, you can get them all in DocHipo.
Just log in to DocHipo, move to the Calendar templates page, and start grooving in. Choose or recreate a 2021 calendar that will tell your story and welcome you with a charming sight.
Knock Knock!
DocHipo is offering a 40% OFF launch discount for the first year on the Pro Plan! This offer is available for a limited time (Offer ends 11:59 pm UTC 31 Jan 2021), and I don't want you to miss this! To redeem this offer, use coupon code LAUNCH40 at checkout.
You just have 23 days left!