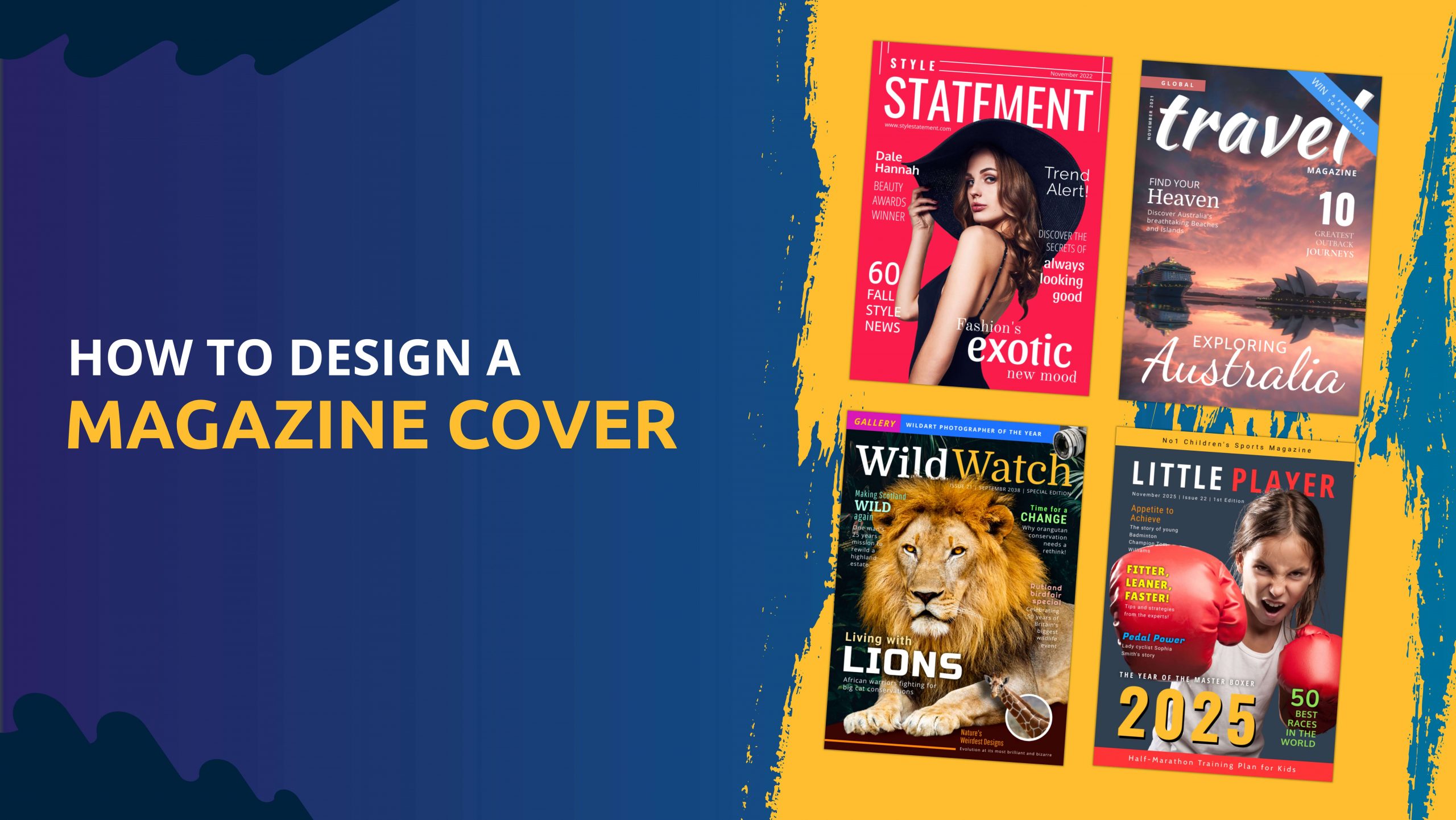 How to Design a Magazine Cover in 2024

Last Updated Nov 8, 2023
Does your cover successfully communicate your magazine's personality?
A successful magazine cover is crucial for communicating the overall vibe of your brand. A potential reader should know what your magazine covers just by glancing at its cover. So, if you're in the magazine business, you need sensational covers that attract and ultimately increase your readership and subscription. An impactful magazine cover includes many crucial elements. It's a real challenge to make them work together cohesively.
This blog post will break down each element that makes up a successful magazine cover. We'll discuss some of the elements of a magazine cover and the best practices of how to design a magazine cover in depth. I'll also share a lot of awesome magazine cover templates from our library that will help you sell your magazine like crazy!
What should a Magazine Cover include?
Let's discuss the essential elements and features of a magazine cover that you must know about magazine cover design.
Masthead
Master Head, or masthead, is the publication's name. It's the most crucial and consistent element throughout your publication's issues. It's best to start your Magazine Cover design with the masthead. For your masthead to pop up, pay attention to its color. You can tweak it according to your issue's central theme or image.
Issue and Dateline
This section includes your publication's date, month, year, and issue number. In some magazines, the issue is broken down into Issue X and Volume Y. The volume indicates the number of years your magazine has been in existence. The Issue specifies the number of times you've published it during the specific year.
For example, in the Travel Magazine Cover Template below, the magazine has been in circulation for 22 years. This specific issue is published in the eleventh month, November of the year 2028.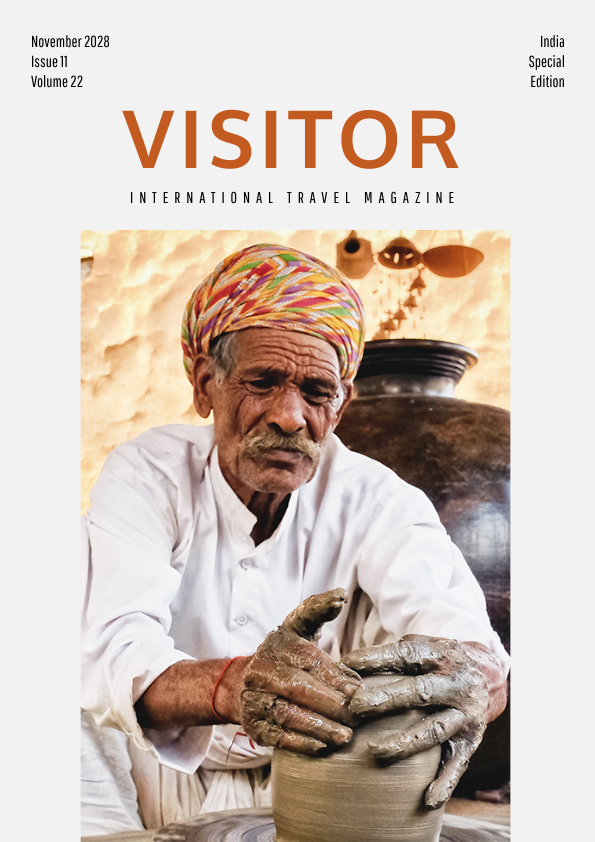 Get This Template and More
Additionally, if you want, you can also add the price here.
Main Image
The main image is the element that covers the major area on your magazine cover. It's
representative of what what the issue is all about. The picture you use in your magazine cover needs to draw people's attention and increase their curiosity about what's inside. Improve your chances of selling more by always using high-quality professional images that stand out from the others.
Lead Article Line
The central theme for the issue makes your lead article line. Use a slightly different font for the lead article line that aligns with the theme to emphasize it. You can go for the color(s) that complements the central imagery so that it stands out well.
Supporting Cover Lines
The supporting cover lines are topics other than the lead article line, which may or may not revolve around the same central theme. Choose words in your supporting cover lines that will draw potential readers in. Keep it concise and at most ten words. Compared to the lead article line, these have smaller font sizes.
Bar Code
The printing house takes care of the barcodes. Still, it's best to leave a little space for it while designing the cover.
Tips and Best Practices to Help You Design a Magazine Cover
Remember the best practices while designing your magazine cover to drive your sales.
Highlight the Magazine Name
Start your magazine cover design by placing its title in the most obvious place. Most of the biggest magazine publications put it in the center of the cover. Your masthead will have the largest font you'll use in the magazine cover design to make it the most prominent element.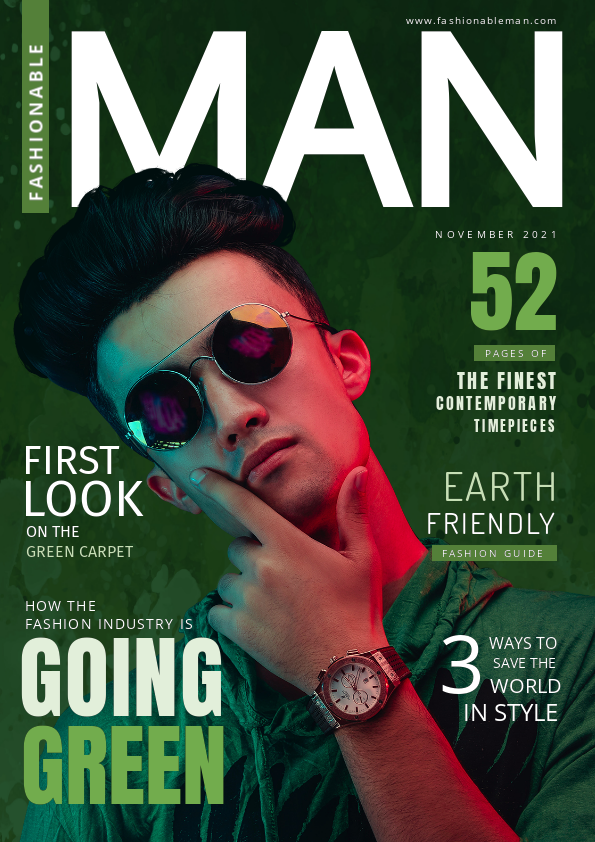 Get This Template and More
Use Magazine Cover Layouts and Grids
It'll make a wrong impression on potential readers if the magazine cover doesn't have a proper layout or structure. Grids and layouts help you align and organize your design elements. It'll make your magazine cover look neat, professional, and more attractive.
DocHipo's templates already balance out all the design elements within it. So your work boils down to choosing a template and tweaking it to suit your needs.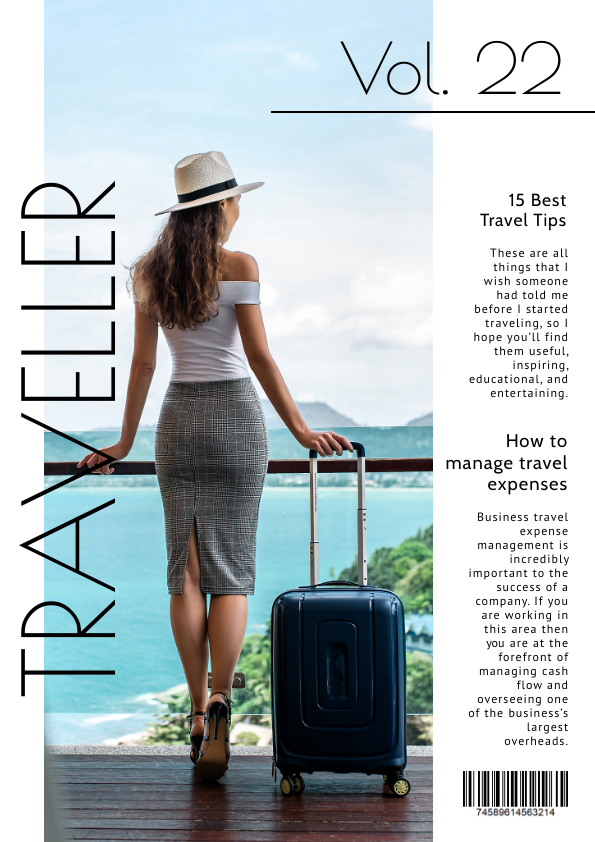 Get This Template and More
If you want to change the placement of any element using grids in DocHipo, here you go!
Emphasize Powerful Words
You can use powerful words in your subheadings to trigger a potential reader's curiosity. The words to instantly catch attention may include but are not limited to "Exclusive," "Free," "Gifts," etc. Using these kinds of words increases the chances of your magazine cover selling itself. Use colors to highlight them.
For example, in the Fashion Magazine Cover Template, the word 'Exclusive' is written in white font above the contrasting black background to highlight it.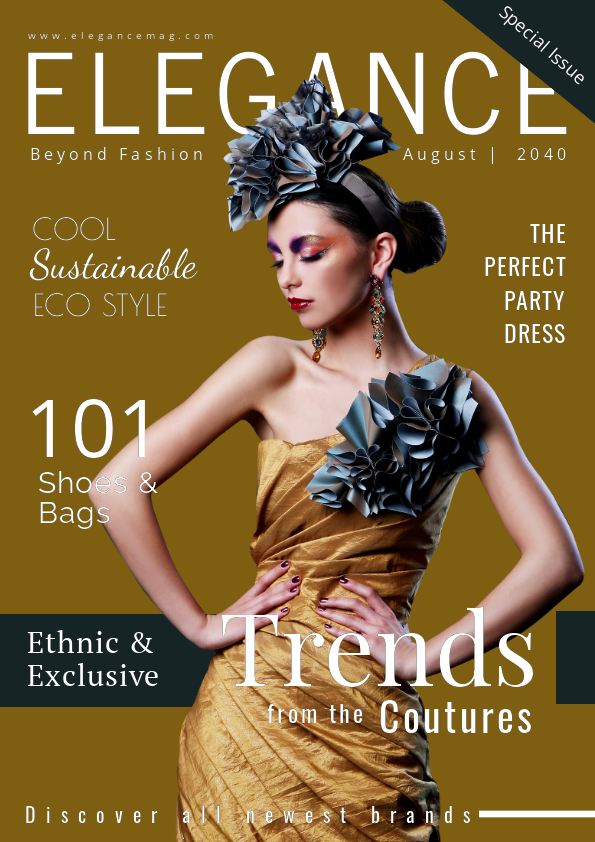 Get This Template and More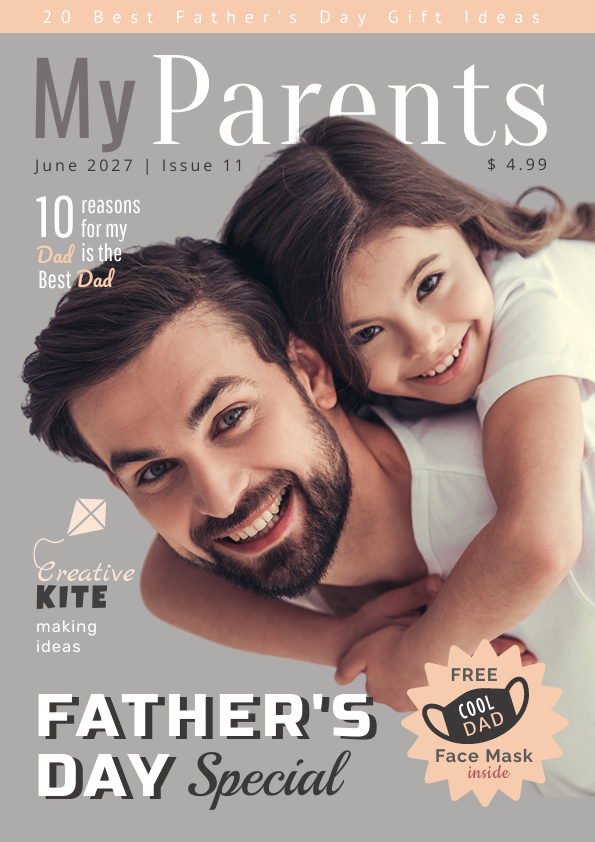 Get This Template and More
Choose the Right Font and Styles
Your font may transform a dull layout into a dramatic one! Also, it can create and establish a style of your own. Consider your brand personality, the theme of the magazine issue, legibility, and readability. And then start exploring and analyzing fonts.
To emphasize certain elements and balance out your magazine cover design:
Combine different font styles like bolder with thinner, serifs with sans serifs
Work with different font sizes to create a typography hierarchy
Choose different font colors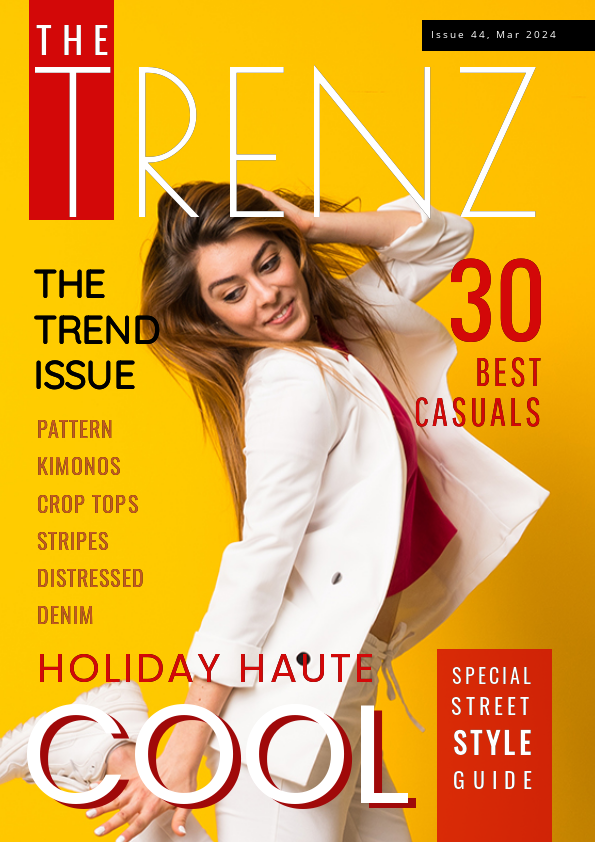 Get This Template and More
Check out How to Choose Fonts for Your Design for guidance.
Meaningful and Attractive Typography
Typography plays a crucial role in your magazine cover design. It brings the text to life and induces certain emotions depending on the issue's theme. So, work on the structure, appearance, font style, etc., to attract and hold the reader's attention.
Look at our DocHipo Templates for some stunning magazine cover ideas.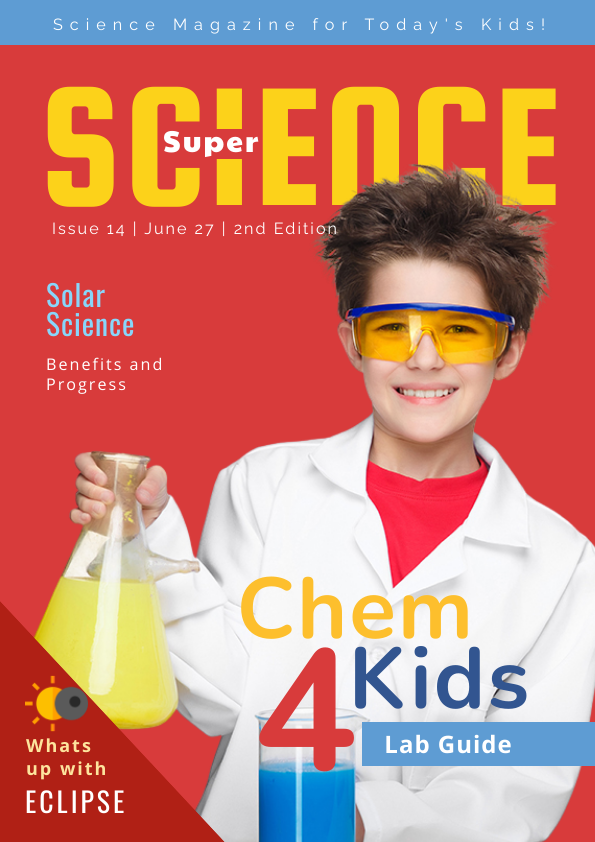 Get This Template and More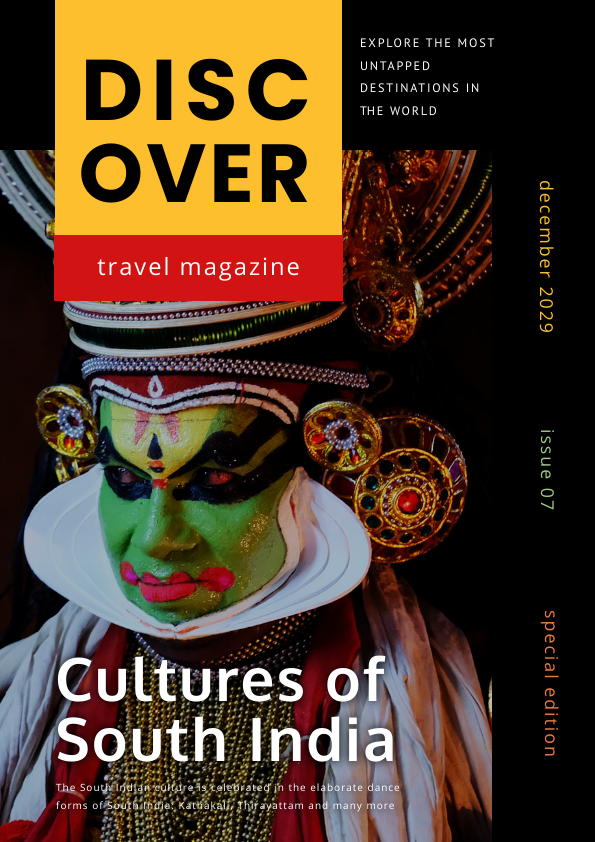 Get This Template and More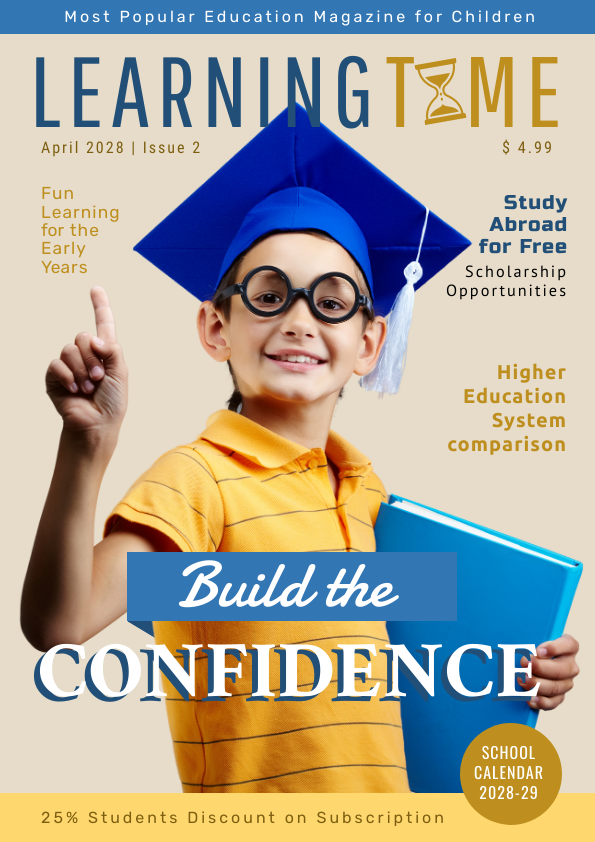 Get This Template and More
Choose a Captivating Picture and Background
An image takes up the major area of your magazine cover layout. So, it would be best if you carefully choose the right one. Choose the image that best reflects your magazine's content.
Portraits with eye-contact work like a charm in getting the potential reader's attention. It makes a connection on a deeper level. Depending on your budget, you can hire models and invest in professional photographers if you publish fashion magazines.
For instance, look at the Fashion Magazine Cover Template below. You can't deny how gorgeous the cover looks with the mind-blowing photograph of a lady making eye contact.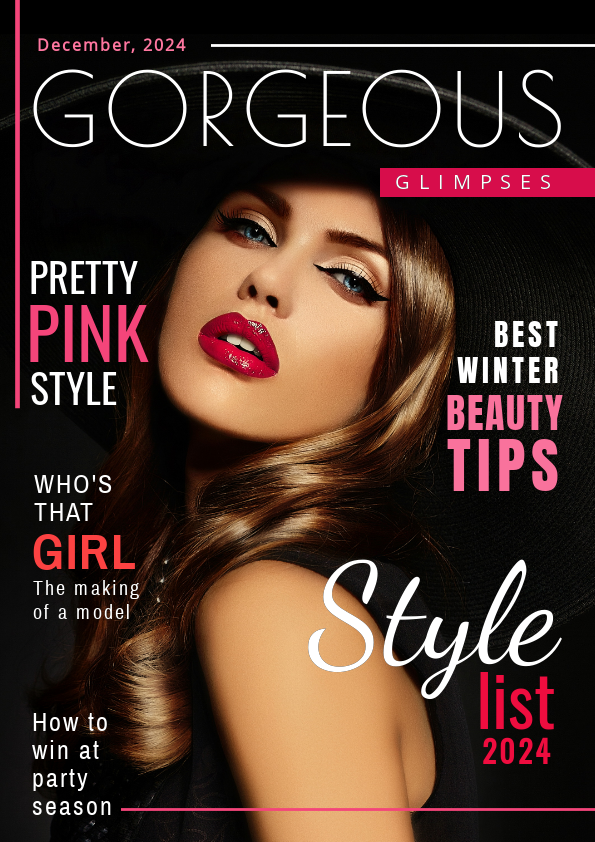 Get This Template and More
Otherwise, you can use stock images from our DocHipo library.
If your magazine is about travel and wildlife, pick a visually appealing image that makes people want to pack their bags immediately.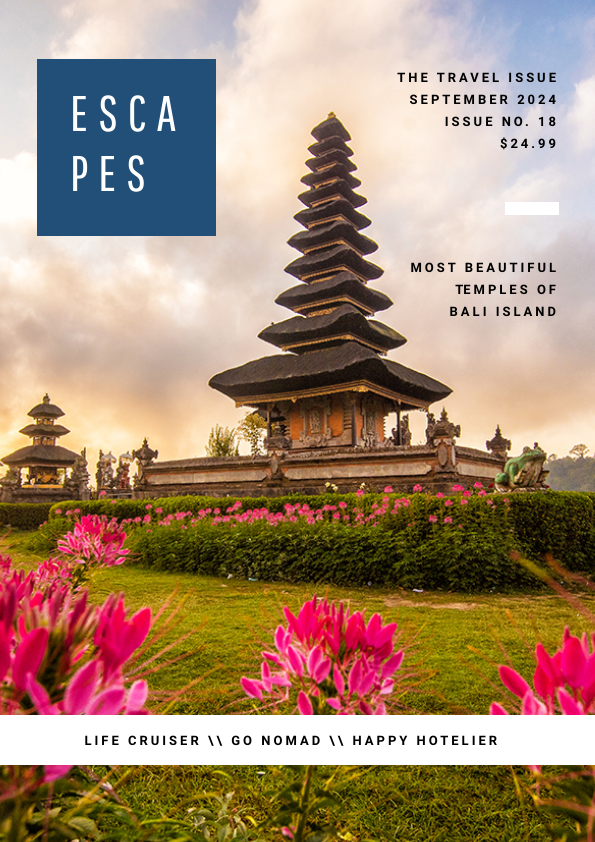 Get This Template and More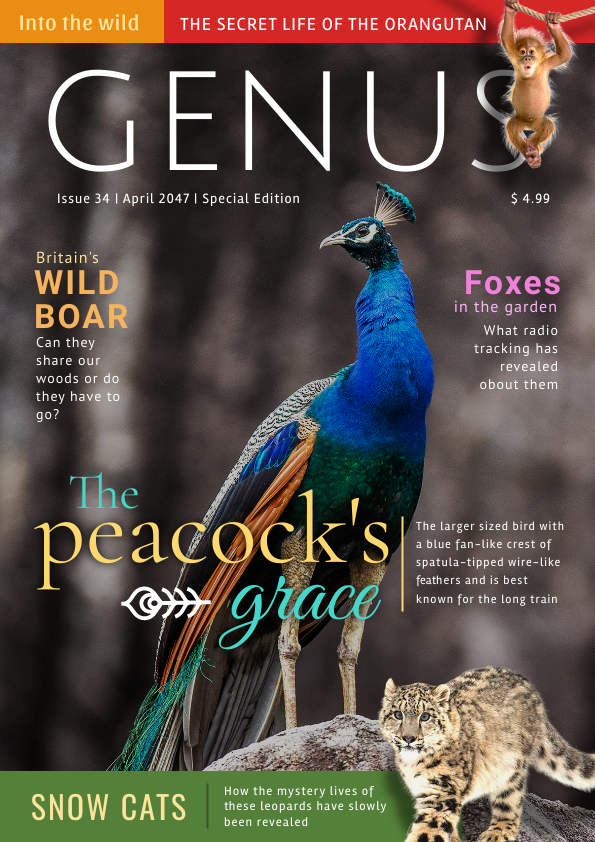 Get This Template and More
You can always enhance images to add to the beauty of the magazine cover's main image.
The background must be transparent or of solid color, making the photo and the text stand out. For example, look at the adorable toddler's picture that stands out well in the solid color background.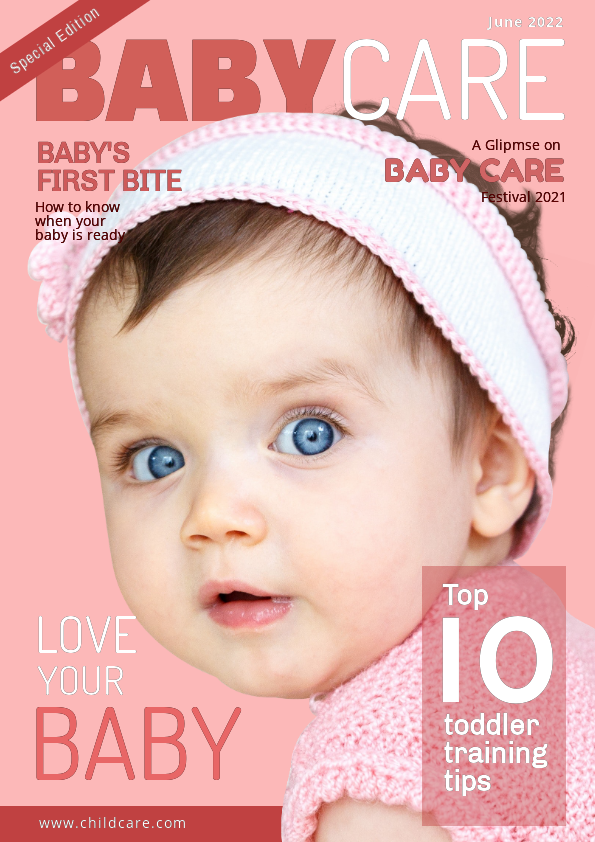 Get This Template and More
In DocHipo, you can remove picture background in just one click to create a lasting impression.
Choose the Appropriate Color and Contrast
The text color will affect your magazine's tone and overall mood. Once you finalize the image for the magazine cover, then look for colors that pop up on that image. For your masthead, choose a color that represents your brand. You can also tweak it to align with the imagery you use.
For example, in the Kid's Magazine Cover Template, our designers used two colors that make the masthead pop up on the background.
Get This Template and More
Next, observe the role of contrasting black and white colors in making the magazine design beautiful and elegant. A slight touch of yellow as a pop-up color adds to the fresh and unique look.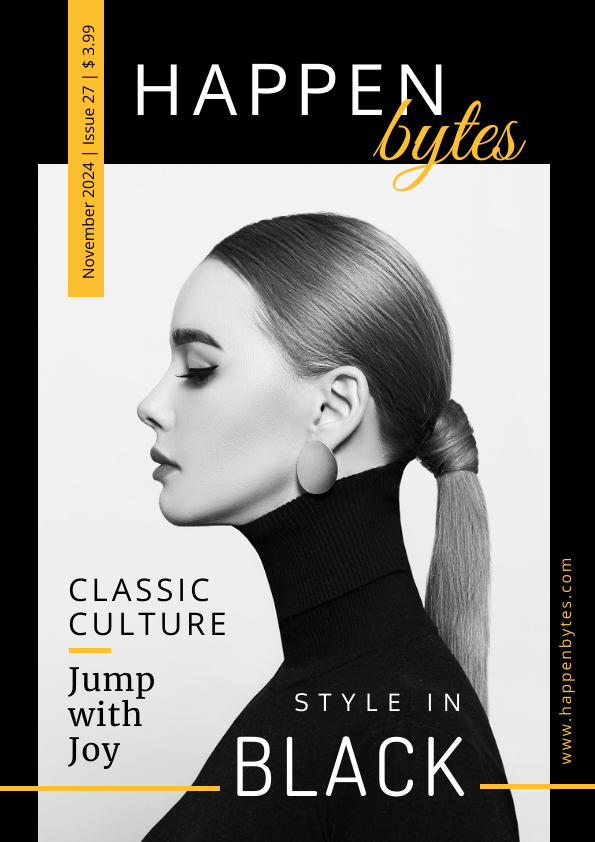 Get This Template and More
You should always maintain the readability of your text. So it's a best practice to use dark-colored fonts on light backgrounds and vice versa.
For example, look at the following Fashion and Travel Magazine Cover Templates.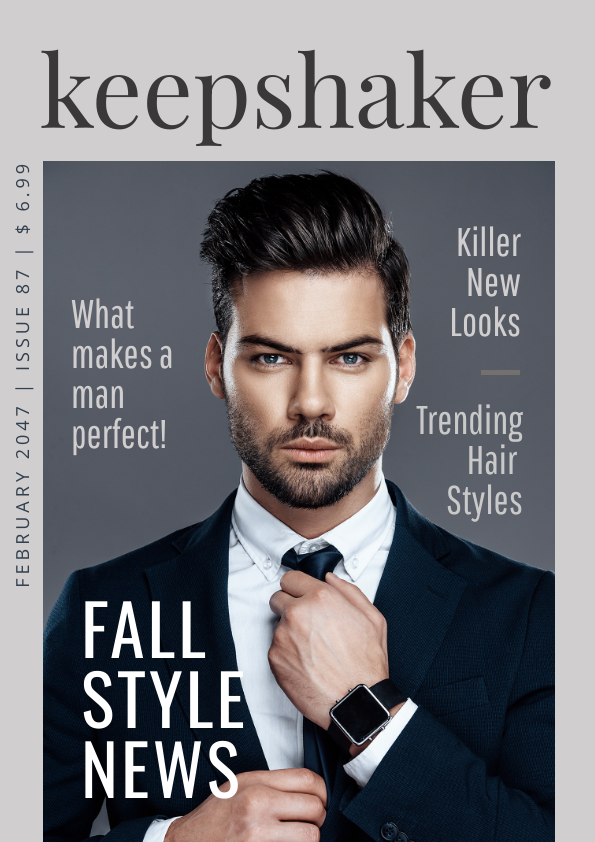 Get This Template and More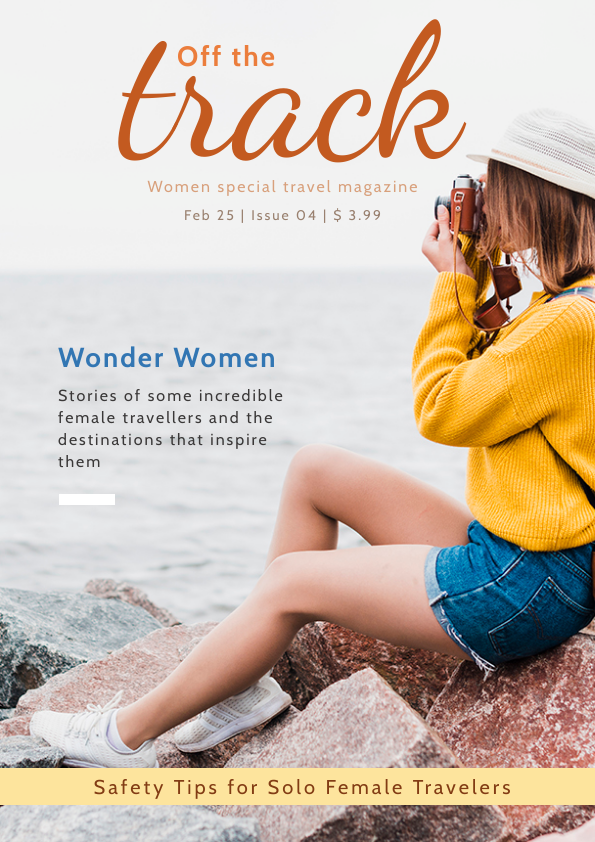 Get This Template and More
You can also rock the monochromatic color scheme like the shades of purple in the Fashion Magazine Cover Template below.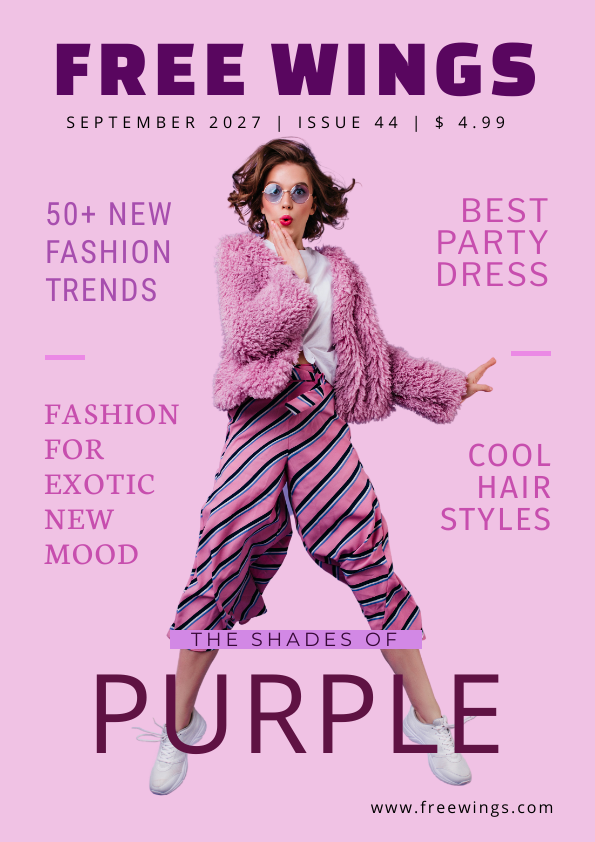 Get This Template and More
Here's how to choose colors and backgrounds in DocHipo.
Avoid Busy Backgrounds
Don't be tempted to fill the cover design when unnecessary. Otherwise, it'll look like a mess. Keep a good amount of space, providing your magazine cover design room to breathe. Brilliant use of whitespace looks attractive as it's neat, clean, and elegant.
For example, look at the simple magazine cover templates.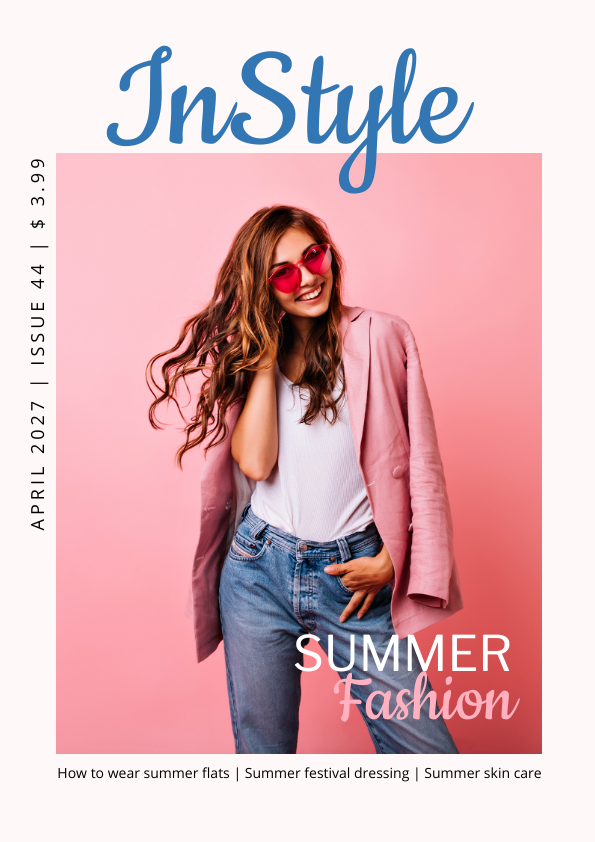 Get This Template and More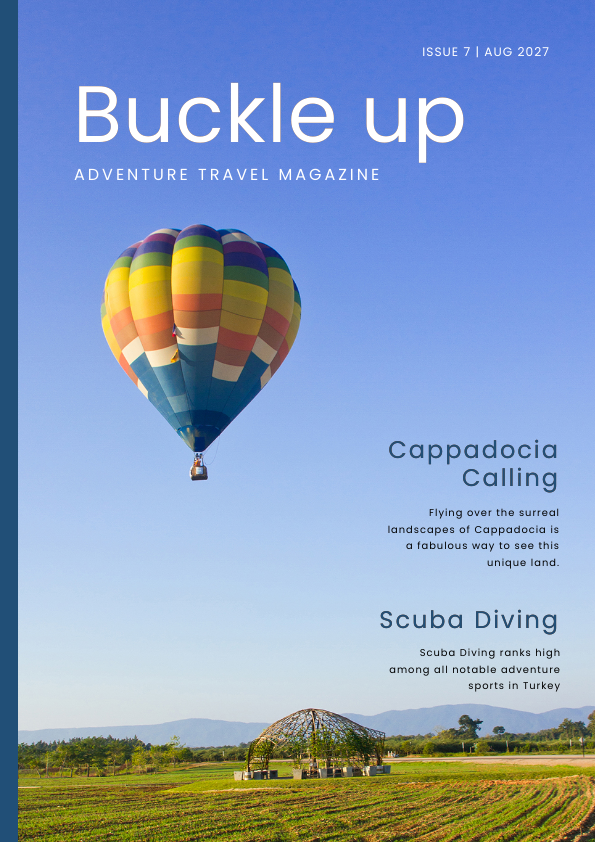 Get This Template and More
Maintain Brand Consistency
If you're new to the magazine industry, you must maintain consistency in each issue you publish. Be consistent with your color scheme, fonts, etc., throughout your communication channels, like social media platforms. This way, your branding will remain intact. Over time, you'll also become a well-known, loved brand in your niche by leveraging consistency.
How to Design a Magazine Cover in DocHipo
In three simple steps, we'll discuss how you can design a magazine cover with DocHipo's Free Online Magazine Cover Maker.
STEP 1: Choose a Magazine Cover Template
Templates are super helpful as they set a rock-solid foundation where designers have already taken care of the perfect balance between each design element used. The Magazine Cover Templates in our DocHipo library covers a variety of use cases.
You can start with any template that suits your purpose and matches your brand style.
Watch our video on free magazine cover templates and how you can best use them.
You can also explore all our templates for magazines, as we keep adding them to the library. I'm sure you'll love them all.
STEP 2: Customize Your Chosen Magazine Cover Template
You can customize each template with a few clicks using the drag-and-drop tool. Our editor gives you access to high-quality stock images, illustrations, icons, fonts, photo editor, etc. You can change your magazine content like a masthead, lead article, supporting cover lines, date, etc., representative images, colors, and almost anything you desire. Check out our Guide to Using the DocHipo Editor to Design Your Documents.
STEP 3: Download Your Magazine Cover Design
When you're content with your magazine cover design, download it in interactive PDF format or directly share it on your social media channels.
Here's how you download your design in DocHipo.
You can always refer to the following quick tutorial on designing a magazine cover in DocHipo.
Get Started on Your Magazine Cover Design
I hope you enjoyed reading this guide on designing a magazine cover. We've shared plenty of creative magazine cover ideas for your inspiration. Hopefully, you liked them. Sign-up to DocHipo and choose from our eye-catching Magazine Cover templates that best suit your needs. Follow the tips and best practices discussed above and design a magazine cover that best reflects your magazine's content. Let your creativity flow within the boundaries of your brand guidelines with the help of our design assets. Let DocHipo's Online Magazine Maker be your helping hand to make your magazine cover shine and sell itself.