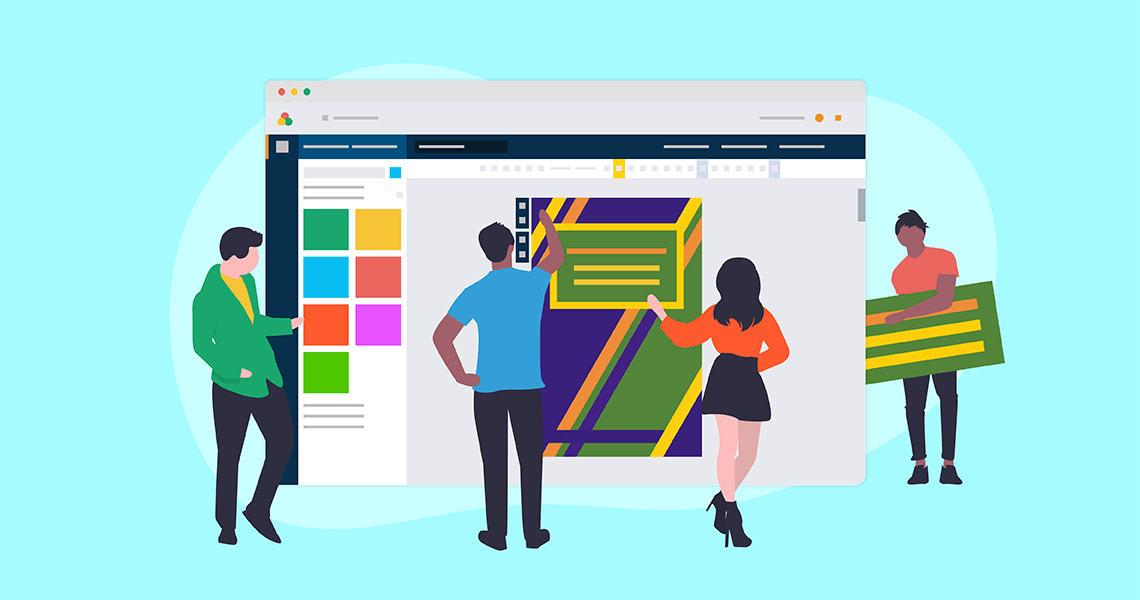 How to Create a Design Document: A Step by Step Guide

Aug 30, 2019
As a marketer, I need to create great quality design documents on a daily basis. Be it an infographic to be used on a blog, a datasheet to explain a product or offering, posters to announce an event or web banners to use on various channels; the list is literally endless. And in today's world when all of us are drowning in information overload, it is indeed crucial to present any and all information in a way that is attention-grabbing, easy to understand and impressive to look at.
From classrooms to boardrooms, we all are trying to make an impact with written words or information presented in a catchy, comprehensible format. You would write your content, explain the idea to a professional designer and convert it into a chic presentation, infographic, poster or any other design document.
But we don't get to live in the perfect world. Do we?
Some of the challenges that we face daily are:
Limited designing skills, therefore limited understanding of how to format the content
The communication gap between the person who is creating the content and who is creating the design document
Time crunch
DocHipo offers the solution to you!
The application comes with tons of amazing features that could transform any idea into an awesome document. But, before you take on the world, here's a step by step guide on how DocHipo works (for you, of course!).
Tons of Cool Templates Segmented in Categories
DocHipo takes away your need to hire a professional designer. The application comes with 100+ gorgeous templates of design documents. All you need to do is to choose one that works for your purpose, modify it and get going!
To make your job even easier, all DocHipo templates are segmented in various categories. And, there are several sub-categories and industries within each category. Once you sign-up for DocHipo, you can see the different Document Types in the left panel and categories on the top.
Simply choose the type of design document you need and filter the templates out by the relevant category or industry. You'll find the ones that work for you. Choose from them and voila! You are on your way to creating a brilliantly designed document yourself!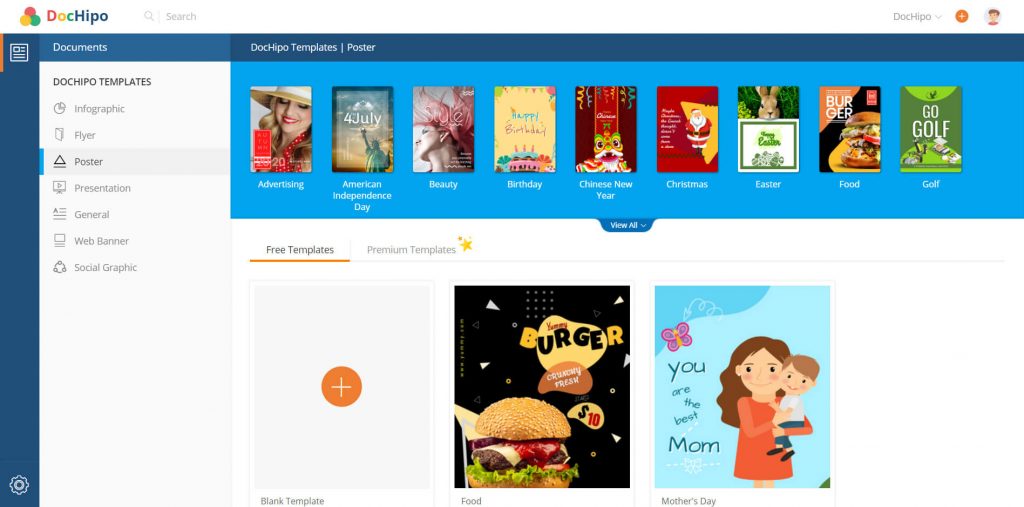 Edit the Template of design documents with Simple Drag and Drop Editor
If choosing the right template is easy in DocHipo, editing them to fit your need is a breeze!
Here's your step by step guide.
Step 1: Put a title and description to your design document
This helps you in identifying the design document later and easily collaborate if you are working with a team.

Once you've found the template you love, select it and you'll be able to add a name and a description to your new document.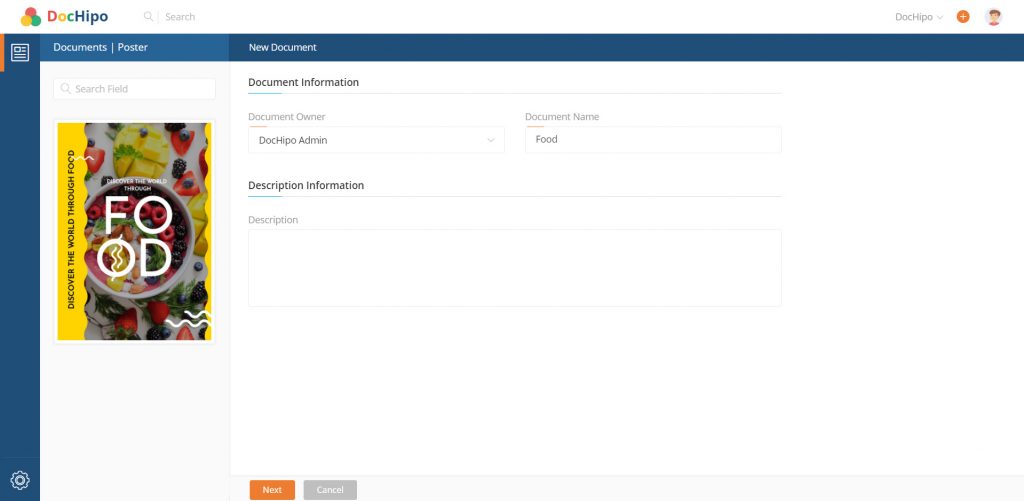 Put in the Name and Description, click on Next to land on the super-simple (yet feature-rich) DocHipo editor.

Step 2: Time to get creative
DocHipo offers you a super-easy editor so that you can customize your documents without any trouble.
In the left panel, you can see all the options to add text, background, picture, icons, tables and more.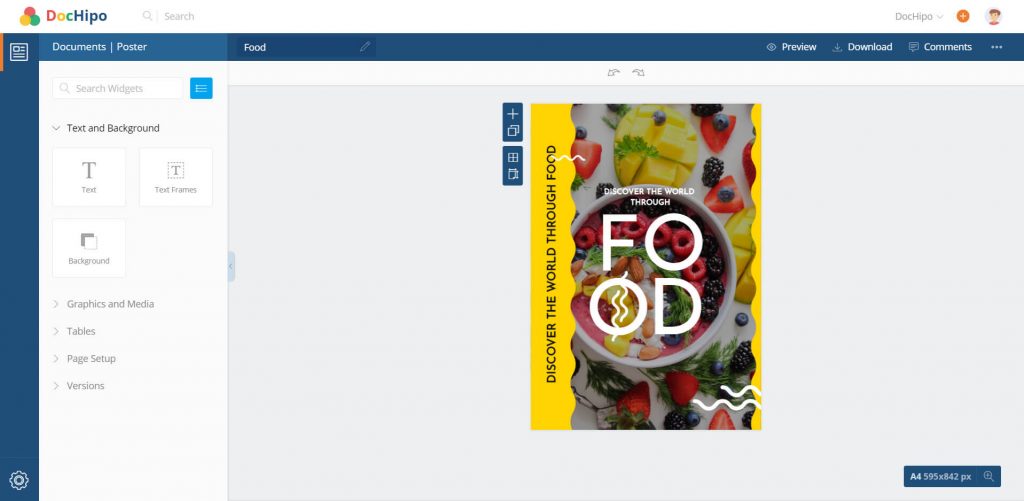 Text and Background:
The Text and Background menu lets you add text fields, backgrounds and versatile text frames to your document.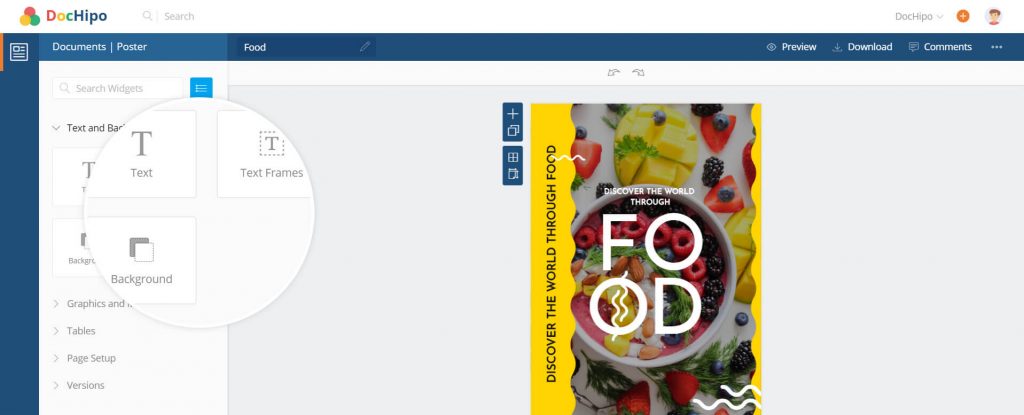 If you are looking at modifying the text that is already there in the template, simply click on it. You'll see the editing tools on top. You have the full control of changing the text colour, font size, alignment, opacity, style and much more.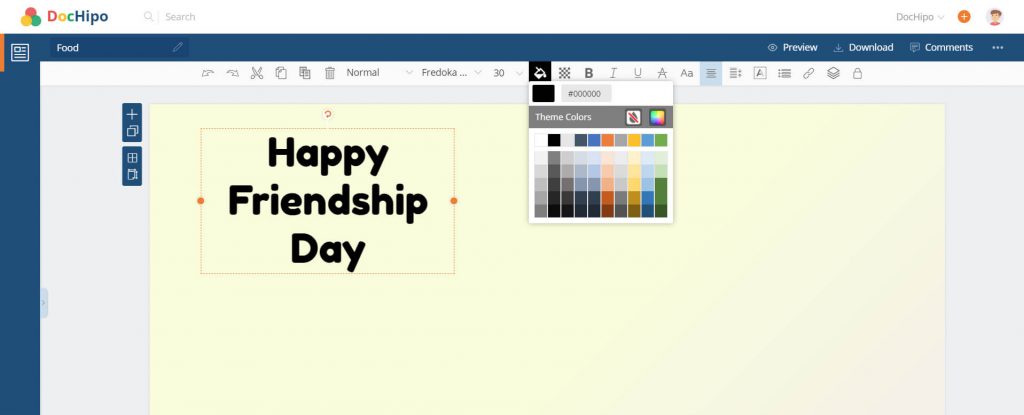 In case you are looking at adding some extra content, simply click on the 'Text' menu in the left panel to add a text box. Once you've added the text box you can drag it to reposition and then format the text as you like!
The editor lets you add character and style to your graphics with vibrant backgrounds and text frames. You can use a solid colour for your document background or choose from 50+ stunning Background graphics.
You can also add some cool text frames to highlight important texts and up the style quotient of your design document. Choose the one you like from the library, drag it to the editor and change the text (if needed)!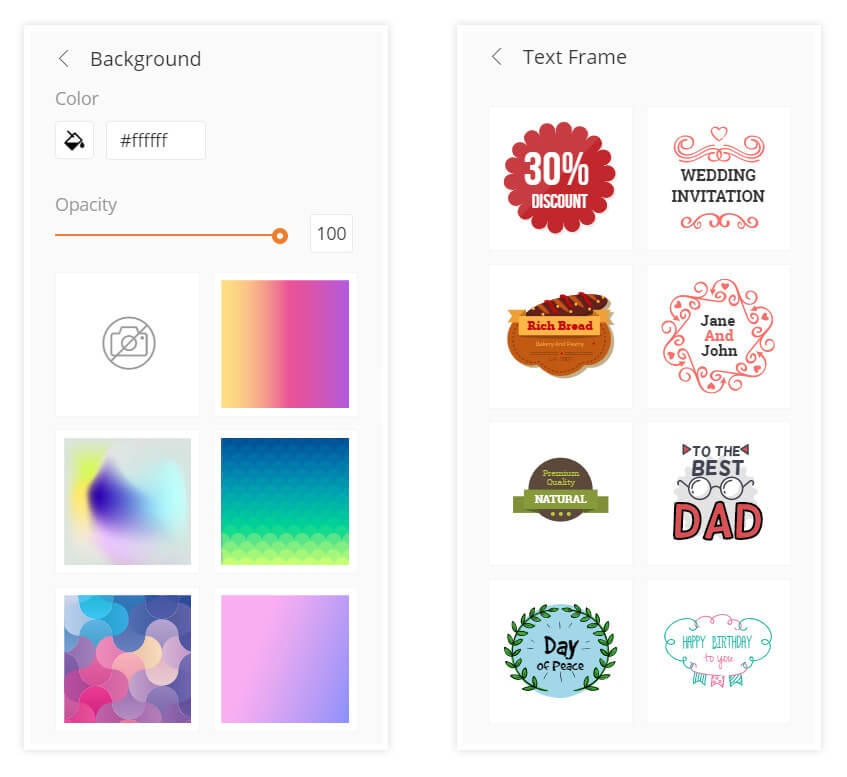 Graphics and Media for your design document
Well, Graphics and Media are two components that can make or mar any design. And DocHipo spoils you for choice!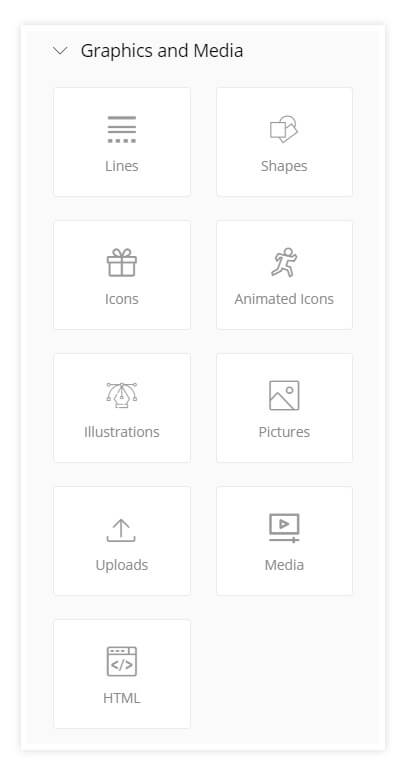 The editor comes with a rich library of icons, illustrations, pictures, animated icons, and more. You also have the freedom to upload your own icons, pictures etc or add HTML codes. Go wild, y'all!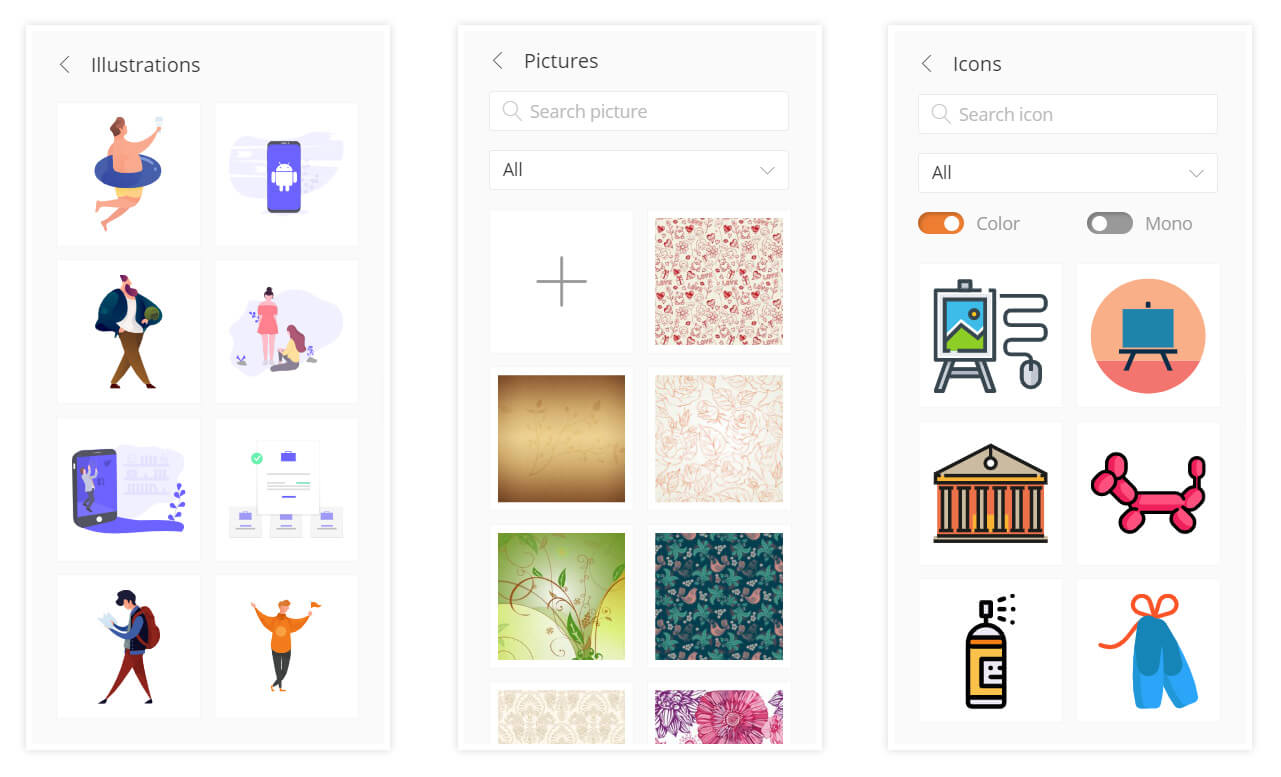 Choose the illustration, picture or icons (animated or otherwise), drag them to the editor and you can change the size, opacity, angle and more!
Tables
We all know how crucial tables are for presenting data in a comprehensive way. To be honest, I could not think of creating a presentation or a report without this nifty little component. Well, you can very easily add tables to your documents in DocHipo.
Simply click on the 'Tables' option in the left panel, add information and insert it to your document! You can resize and reposition it as you want. What more, you have the complete flexibility to format the header, the body and border just the way you want!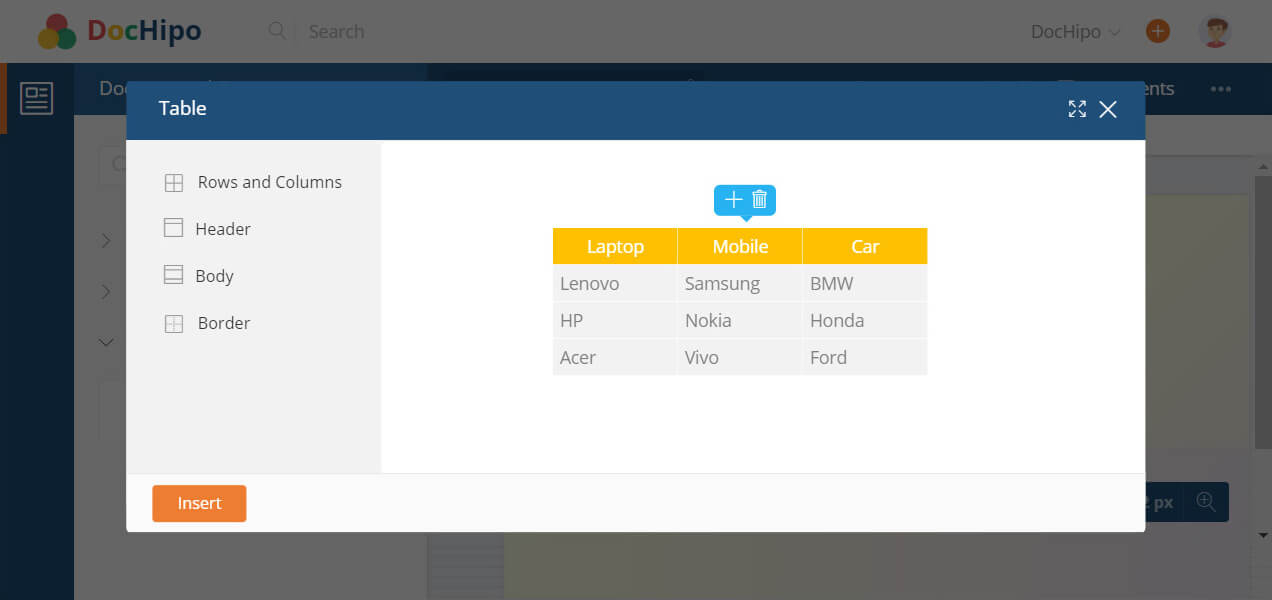 Page Set-up for Design Document
The Page Set-up menu lets you have complete control over the page size. DocHipo templates are built keeping industry-standard document sizes in mind. You can very easily customize the size of the document as well. So, if you fall in love with a template which is not the right size, use the Page Set-up menu to resize it in a jiffy!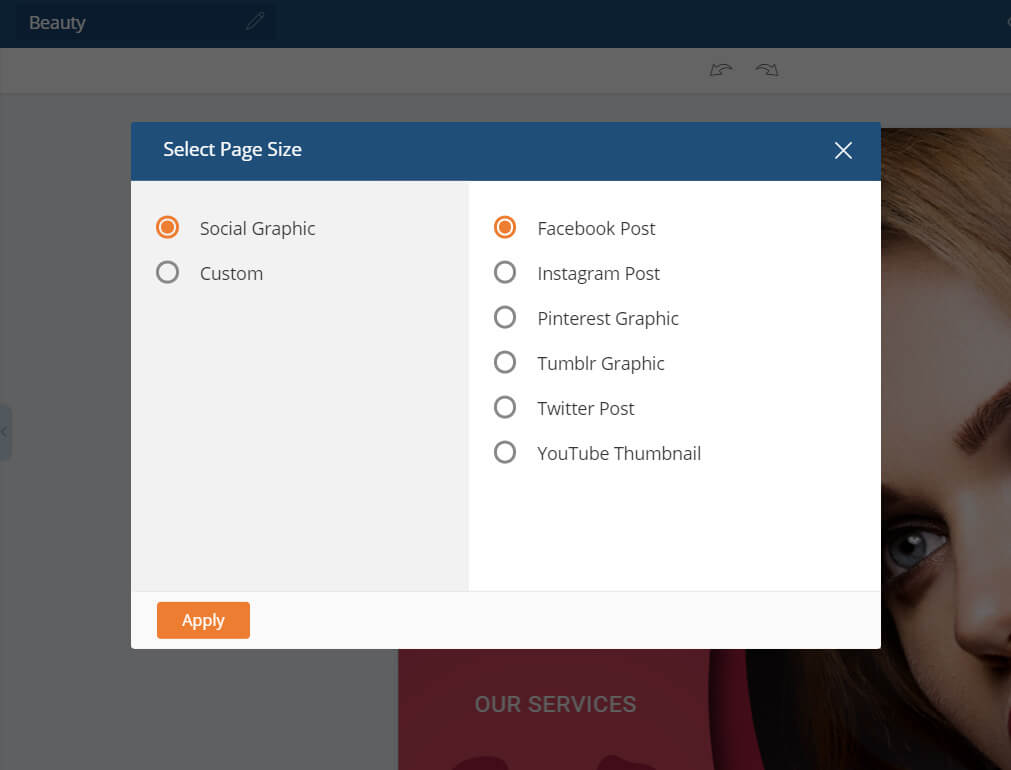 You can use the Page Margin feature to help you during the designing process, especially if you are designing a document from scratch.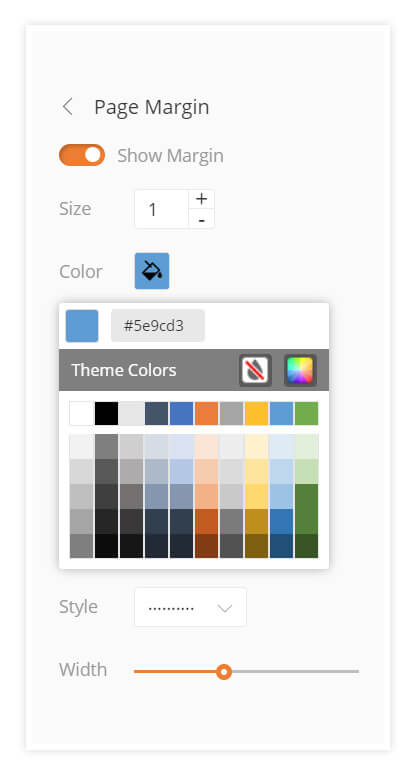 Version Control
DocHipo autosaves everything on an hourly basis and each time you leave a design document. So, you don't have to worry if your last edits are not looking so good (in the hindsight) and you would like it to go back to the previous version. The version control feature lets you get back to the previous version with one click.
This one's especially helpful if you are working with a team! So, don't worry about making a mistake, DocHipo has your back!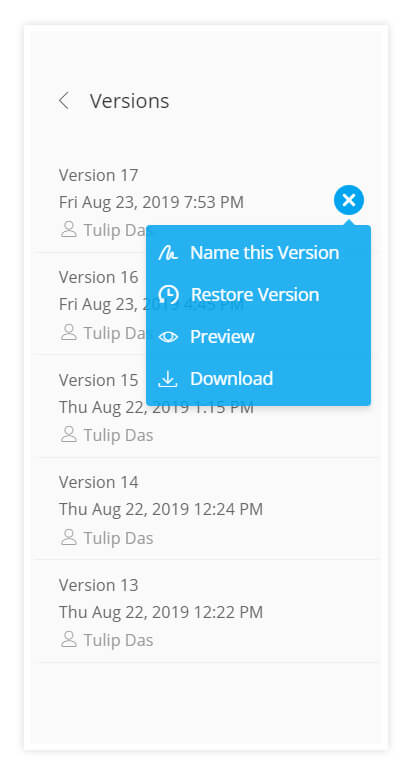 Share Your Brand-New Design Document with the World
Once you've created the document, now it's the time to win the world over!
In today's world, there are several ways you can use a design document. And again, DocHipo spoils you with choices. Here's how you can use your stunning document!
Option 1: Download it
Now that you have your document ready, you have the option to preview and download it. You would find the Preview and Download options on the top of the editor.
If you are happy the way your document looks, click on Download. You can download your work in PNG or PDF format. What more, you can choose the quality of your download too. You can choose between Low, Medium or High-quality downloads for different purposes. Keep in mind, the higher the quality the higher the document size would be.
Pro Tip: Always go for High quality, if you are looking at printing the document.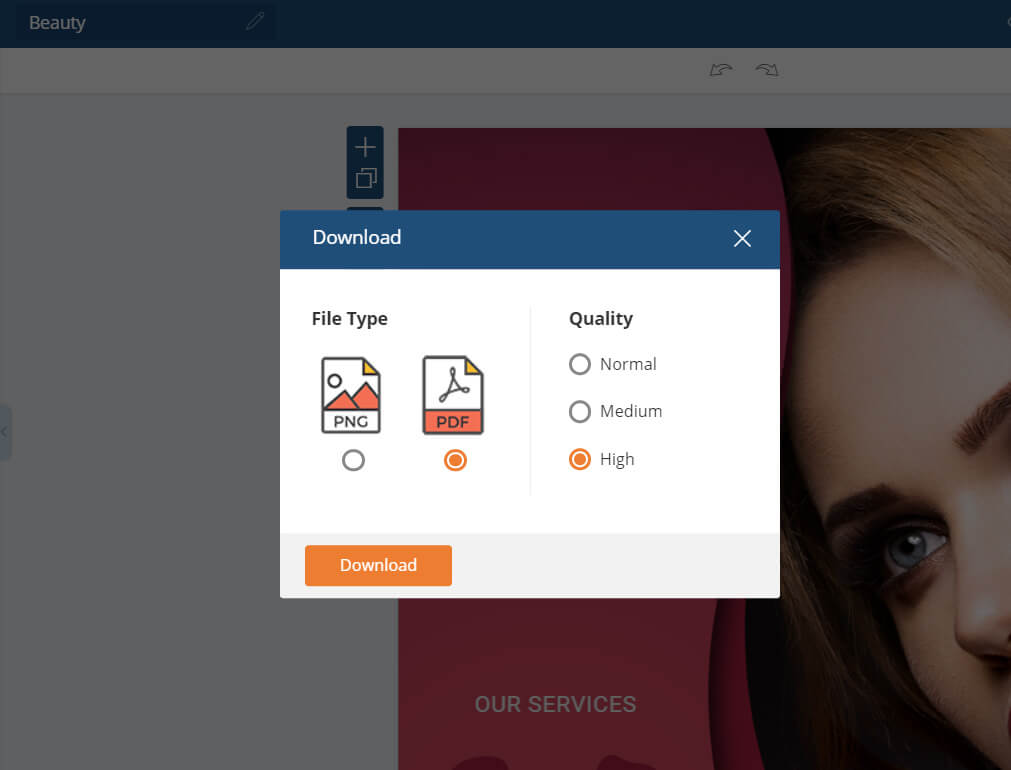 Option 2: Share or present your design documentonline
In case, you would use the document digitally, you may just want to present the document (right from DocHipo) or publish it online.
Click on the More option (three dots) beside Comments and you can Publish or Present the document.

In case, you are looking at publishing the document online, you may simply copy the published link and share or share it directly on social media platforms.
What if it's a confidential document? Don't worry! You can password protect your published documents too. Simply set a password and share it with your intended audience. Your information stays confidential!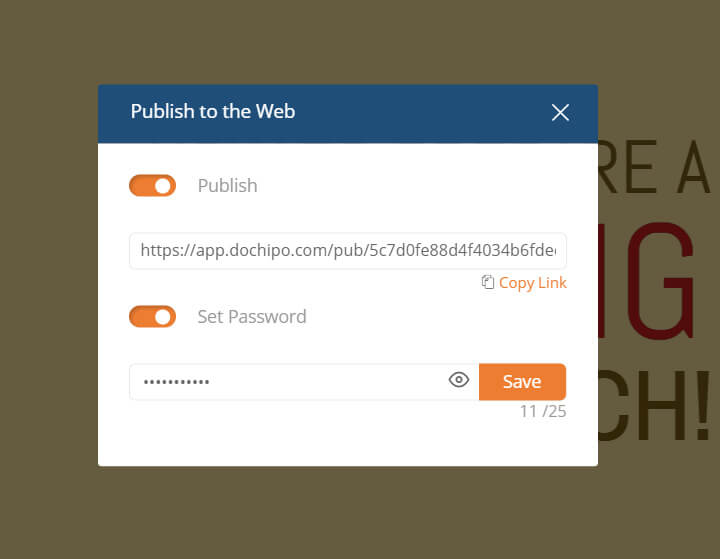 Last Words
Today's communication revolves around documents. Think about it! Every single day you publish a social media post, you share information via presentations, reports, infographics and much more. What if you can empower these documents with well-put-together stunning designs? What if you can create and share these documents in a jiffy? DocHipo makes it possible for you.
Don't just create documents; make them Hi-Potential!
Sign-up for DocHipo today. It's absolutely free to get started! Let your ideas impact the world around!