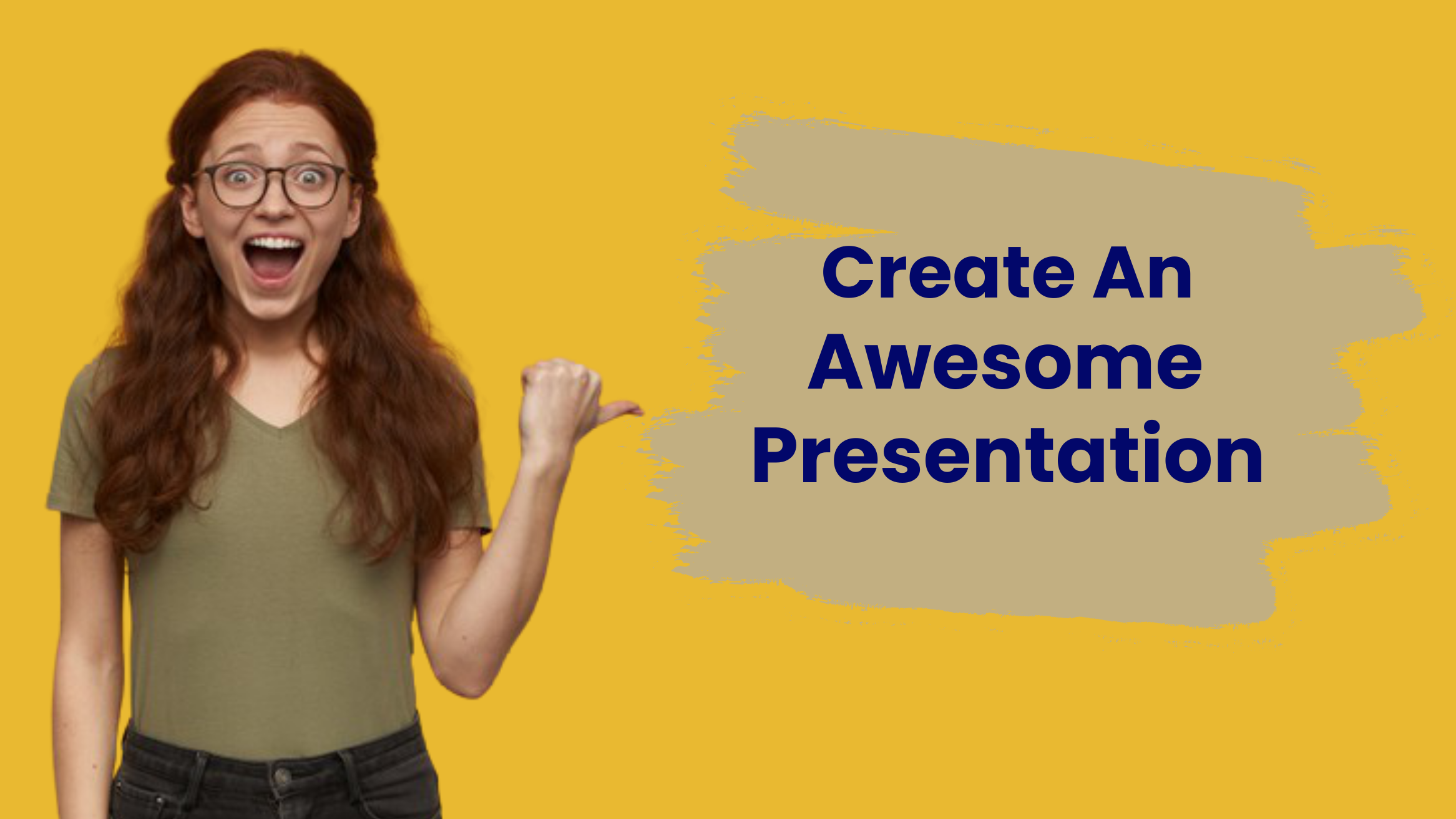 How to Create a Presentation: A Beginner's Guide

Apr 9, 2021
Are you wondering how to create a presentation? Then you have come to the right place. Nowadays, creating a presentation has become an integral part of the key responsibilities for many positions. You might be a speaker, an executive, or any other working professional – giving presentations might be your daily exercise. With this in mind, we have come up with some presentation templates. These templates will help you create a presentation that may look like days of hard work but only takes a few minutes.
Continue reading to know how to create a presentation using DicHipo.
Things To Consider Before Creating a Presentation
Brainstorming
Beginners always dive straight into slide creation without having a clear idea of the message they are going to present. This is one of the common mistakes that many people make while crafting a presentation. But according to Aaron Weyenberg's TED talks, it would be best to focus on your main message, structure the supporting points, practice, and then think about your slides.
Well, there's nothing wrong that people just open an application and start experimenting with it. But the best way to create a presentation is to jot down your ideas first. This will help you get your creative juices flowing. Furthermore, you will be able to structure your presentation in the right way.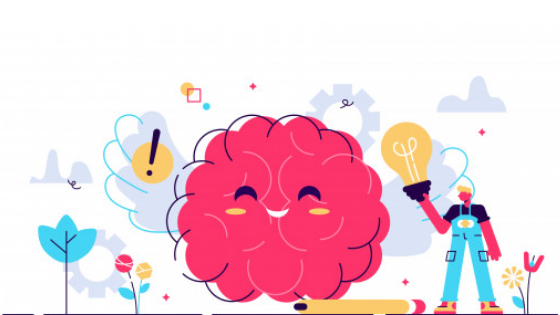 Define Your Message
Defining your main message is the next and most challenging part of your presentation. Your storyline will carry the presentation through the end. To define your main message, ask yourself the following questions:
What is the purpose of your presentation?
Who Is Your Audience?
What message do you want to communicate with them?
What actions do you want your audience to take in the end?
Once you have the answers to these questions, your job is almost done. You have your target audience, so you can weave a story that will grab their attention and lead them to a deeper understanding.
Keeping the attention of your audience is the most challenging part here. Your audience might trail off into some other stuff, such as thinking about anything else or checking their mobile phones. Hence, you must add some suspense and surprises along the way. For example, you can add some stunning images, slides that include only one word, or anything else that will keep the audience interested.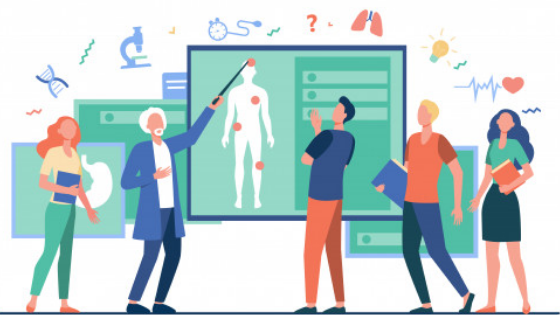 Create A Structure
You can divide your presentation into three different sections: Introduction, Body, and Conclusion.
In the introduction part of your presentation, you need to briefly summarize what you will talk about and what your presentation is all about. In the body of your presentation, you must include all your ideas, facts, statistics, evidence, and other things. The conclusion part is where you must give your audience some key takeaways on what they have learned.
Try to keep your presentation within ten slides. Even if your talk is 30 minutes long, 10 slides are enough for your audience to digest the information in line with your speech.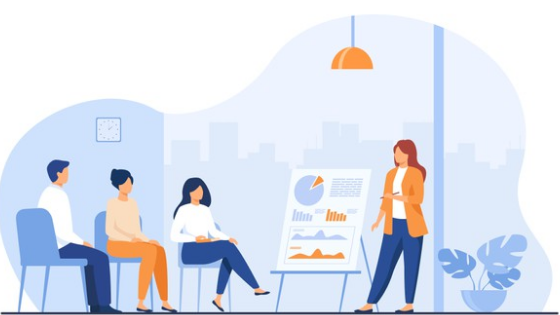 Keep It Short
When it comes to making a good presentation, your texts and design should be well balanced. If you use too much text, people will only read your presentation instead of looking at you. According to Marketing King Seth Godin, you must use less text in your presentation to be really clear about your message. Further, he says, if you have more details to show, write them up in a short memo and give it to your audience after the presentation.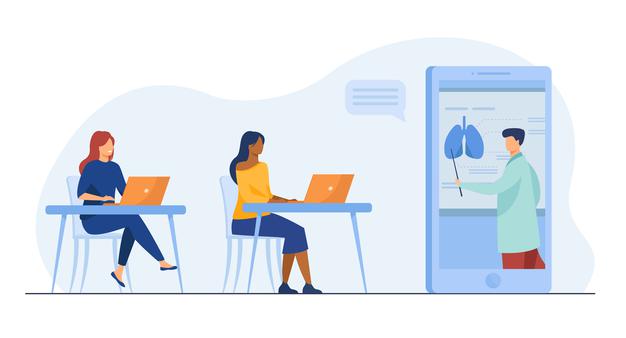 How To Create A Presentation Using DocHipo
Create An Account
If you don't already have a DocHipo account, you can create one just by simply visiting the homepage of DocHipo and entering your email address and password. Once you visit the homepage of DocHipo, click on "Get Started For Free" from the upper right corner of your screen to do the same.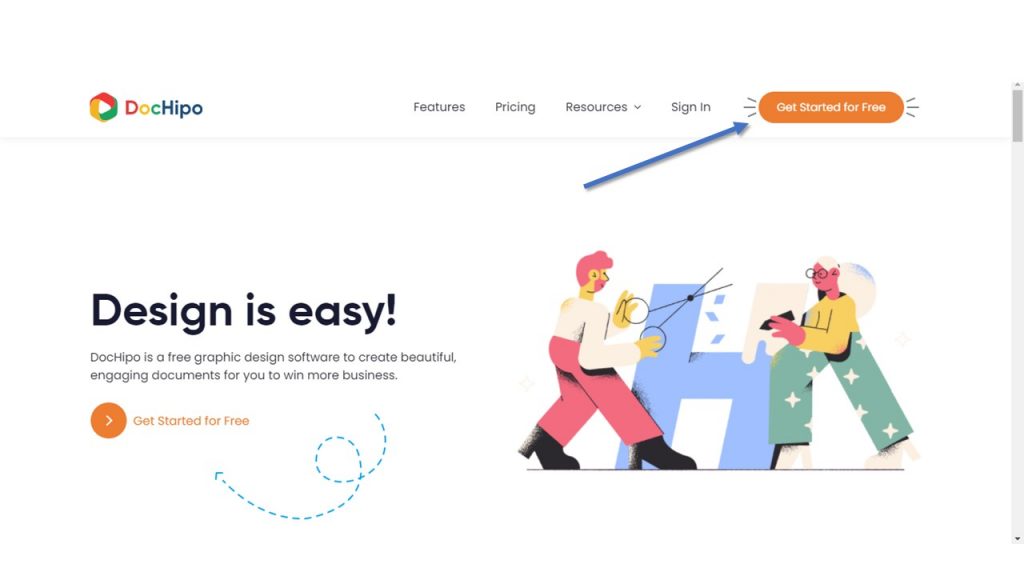 Choose A Template
Once you land inside the DocHipo application, you will find various document types and hundreds of templates. To find presentation templates, you need to type "Presentation" in the search bar and click on the search result. Next, click on a presentation template to proceed further.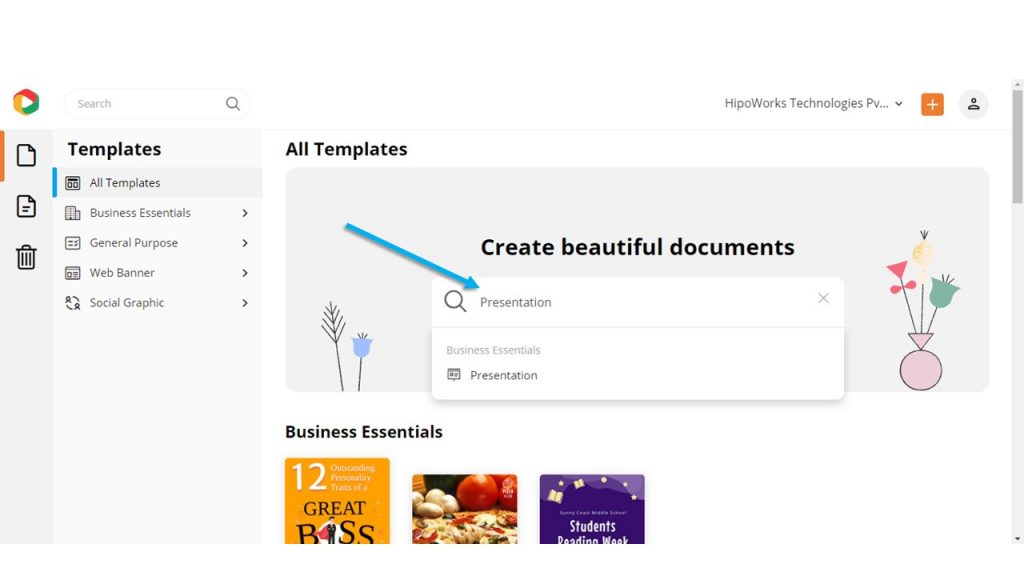 Alternatively, you can decide to create a presentation from scratch. It depends on the message you want to send.
Choose A Color Scheme
Colour schemes are the first thing that helps communicate the message behind the design. Getting it right will not only keep your audience connected but also set the mood of your presentation. Hence, please choose your colour scheme and apply them as the background colours in all the slides. You can use online colour scheme generator tools such as Coolors, Color Hunt, Colormind, and many others.
Once you have found the suitable colour scheme for your presentation, you can copy the hex codes generated by the tools and insert them into DocHipo's custom colour option. To do that, click on "Graphics and Media" and then "Background."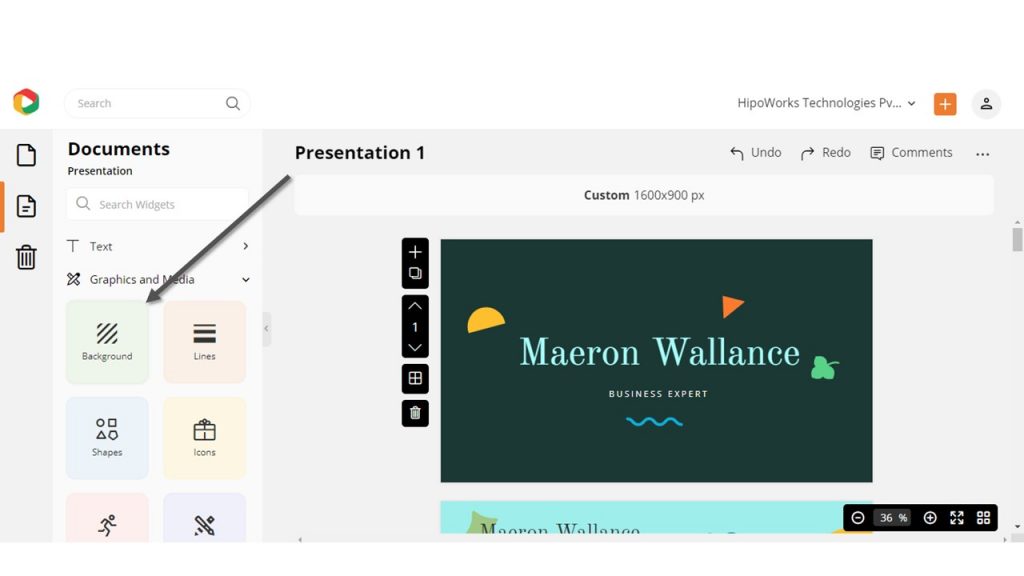 Next, click on the box where the current colour code of your presentation is being displayed, and then replace it with the one you copied from the colour scheme generator.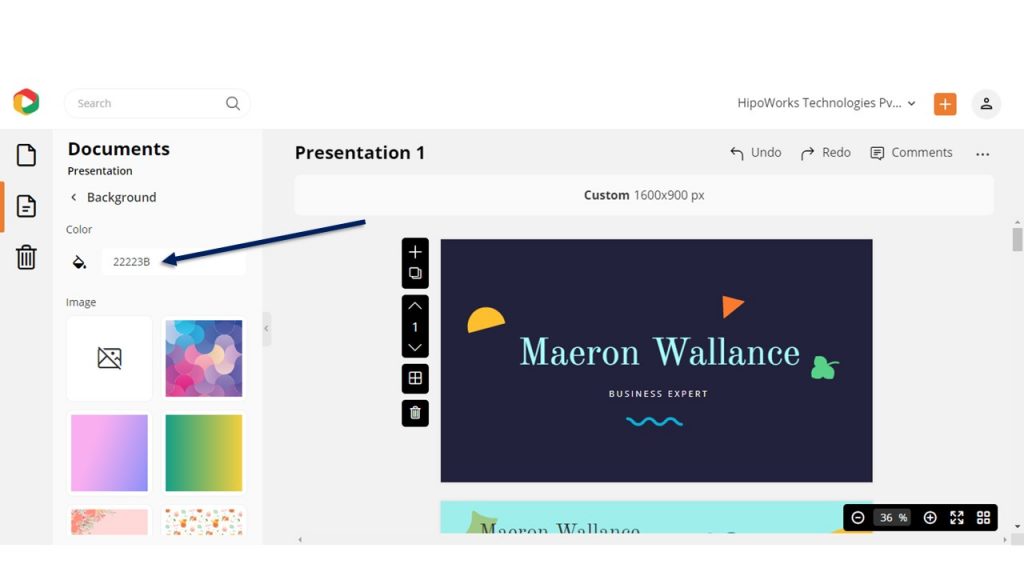 Choose The Right Fonts
Choosing fonts is another crucial design element that communicates all on its own. Just like you have selected your colour scheme, pick your fonts. Ensure that your fonts are simple, and try to choose a maximum of three different fonts: One for your Title Text, one for your Subheadings, and one for your Body text. For example, in the following slide, we have taken "Lato" for the title font, "Poppins" for the Subheading, and "PT Sans" for the body text.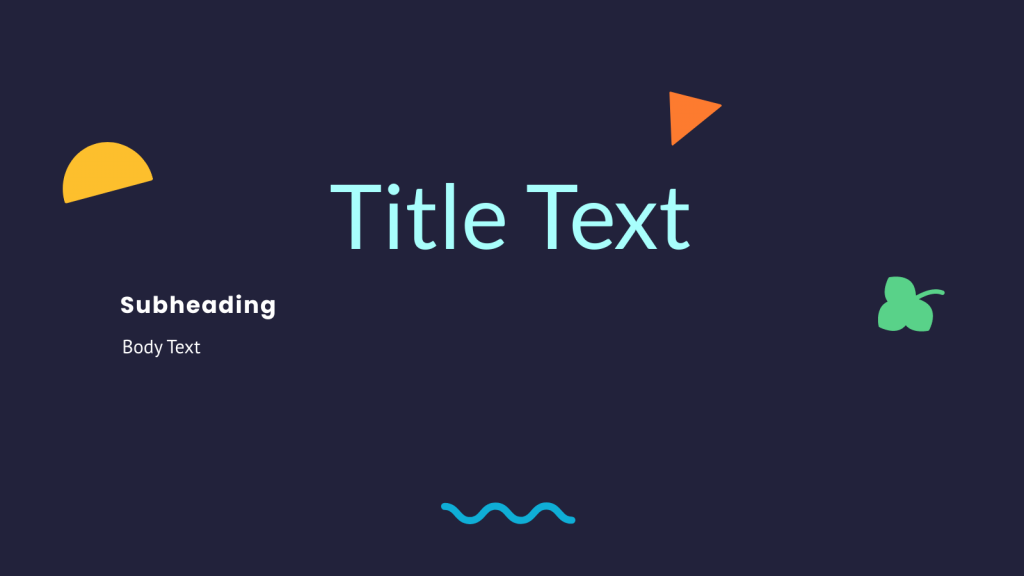 Now, you can insert your texts by clicking on the "Text" option on the left pane and change the font style as you want.
Customize The Other Elements
There are many other things you can add and edit until you are satisfied with your presentation. You can add illustrations, shapes, animated icons, and even videos. These elements will make your presentation more understandable and unique. Find all these elements on the left pane and choose your elements accordingly. Choose illustrations and icons to tell stories, highlight the critical information using bold and colourful texts, and do many other things to make your presentation interesting.
Additionally, you can clone the slides and edit the texts without changing other elements. This is a handy feature that DocHipo offers to save you a lot of time. Furthermore, you can clone any slide and reorder it accordingly. Click on the four squares from the bottom left corner of your screen. Click, hold and scroll through the page to reorder the slides that you have cloned.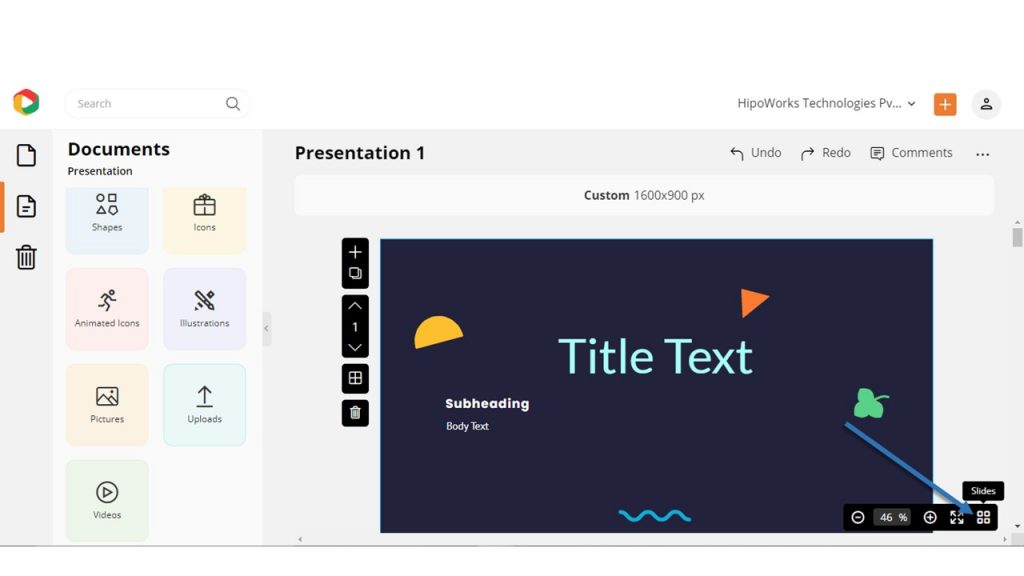 Here is a video on how you can add YouTube videos to your presentation or any other document to make it more engaging.
Revise and Improve Narrative Flow
Once you have added all the textual and visual elements to your presentation, go back to the first slide and ensure that the narrative flow is smooth from one slide to the next. Additionally, you can incorporate some visual elements between the sections to let your audience know about the concept's changes.
Download, Present Or Publish The Presentation
Once you are satisfied with your presentation, you can "Publish" or "Present" it directly from DocHipo. It's expected that your audience may ask for a copy of your presentation. So, you can download the presentation in pdf or zip format. Click on the three dots from your screen's upper right corner to Download, Present, or Publish your presentation.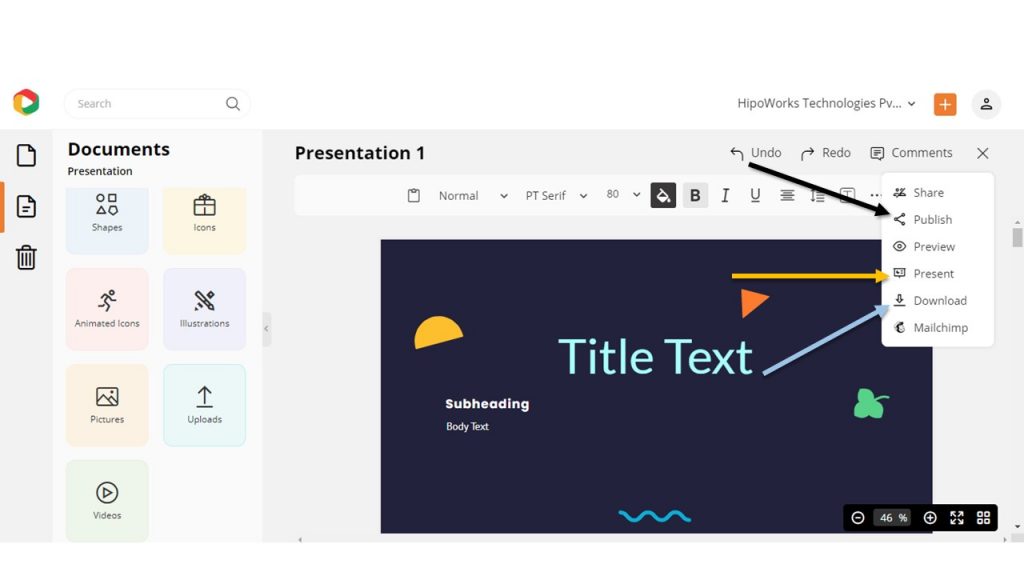 Conclusion
Now you know how to create a presentation so keep practicing to give presentations like a pro. DocHipo helps you say goodbye to those boring PowerPoint slides. Use the presentation templates that DocHipo offers and engage your audience without putting in much effort. Sign-up to DocHipo today and create your presentations for free.